THURSDAY, DECEMBER 01
9:00 A.M. – 9:30 A.M.
"NGA Open for Business"

Keynote Speaker – Robert W. Kraft
Liaison
National Geospatial-Intelligence Agency (NGA)
"The National Geospatial-Intelligence Agency (NGA) has several initiatives to succeed in the open and improve transparency. The new NGA Acquisition Strategy's, especially the second principle, "Marketplace Transparency and Collaboration, is designed to improve outcomes by being user consequence driven, informed by the marketplace and agile. Some of these efforts include the GEOINT Solutions Marketplace (GSM), the Innovative GEOINT Application Provider Program (IGAPP), and the Commercial Initiative to Buy Operationally Responsive GEOINT (CIBORG) program. In the academic arena, NGA along with the U.S.
Geological Survey is focusing on the advancement of geospatial sciences through their partnerships with Centers of Academic Excellence. 'Open' also pertains to open source development as evidenced by NGA's GitHub presence and our DevOps initiative. Open geospatial standards are the underpinning to an open and transparent environment and NGA continues its longstanding support and leadership in forums such as the Open Geospatial Consortium (OGC) and on the Federal Geographic Data Committee (FGDC).
NGA continues to contribute to the federal government's Open Data initiatives such as Data.gov and GeoPlatform.gov. That NGA is succeeding in the open is evidenced by our web services published on the world wide web for humanitarian assistance / disaster relief events like the Ebola Crisis or Hurricanes Sandy and Matthew of national initiatives such as support for the Arctic."
Robert "Space" Kraft is currently the National Geospatial-Intelligence Agency (NGA) liaison to the Navy's Space and Naval Warfare Systems Command (SPAWAR). His previous assignment was as an IT Program Manager at NGA for NSG Video Services, SensorWeb, cloud computing, 3G networks, and DCGS / Empire Challenge ISR demonstration. Kraft transitioned from the US Navy after 22 years of service (Intelligence, Targeting, Information Operations, and Tactical Aviation). He earned a BS from Penn State in Geography (Urban Planning and Regional Development), minors in Economics and National Security Affairs, an MS from the Naval Postgraduate School, Scientific and Technical Intelligence (Electronic Warfare, Space Systems, Communications Engineering, and Computer Systems) and a post baccalaureate certificate in GIS from Penn State.
Kraft is a member of the San Diego Regional GIS Council, co-founded the Geospatial San Diego networking group, is extremely active in the Penn State Alumni Association and is an Admissions Representative recruiting undergraduates for Penn State.
9:30 A.M. – 11:30 A.M.
Cartographic Research, Moderator – Brian Fox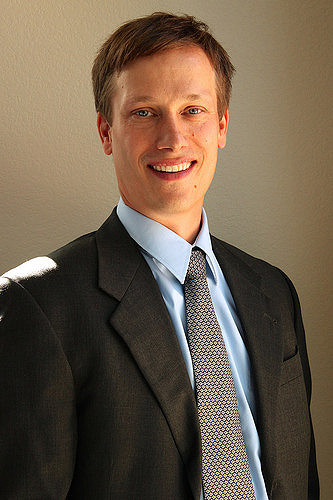 Brian Fox
Systems Development Branch Chief
National Geospatial Technical Operations Center (NGTOC)
U.S. Geological Survey
Brian Fox is currently the Systems Development Branch Chief for USGS's National Geospatial Technical Operations Center (NGTOC), where he oversees development activity in support of The National Map. Prior to leading NGTOC's Systems Development Branch, he supported the National Geospatial-Intelligence Agency in a variety of roles, including joint military assignments in the United States and overseas. Fox holds an undergraduate degree in Geography from the University of Minnesota and a Master's degree in Business Administration (MBA) from the University of Missouri – Saint Louis.
"Unleashing the Power of Historical Maps"
Detailed knowledge of the natural and human-induced changes on Earth is crucial to understand human activities at the local, regional and global levels across the scale of time. Yet, the data sources that can provide such knowledge over a broad temporal or spatial scale are dispersed and not in a readily usable format for data analytic tasks. At the Spatial Sciences Institute, University of Southern California, we are building novel map processing technologies to unlock detailed geographic information from maps. Our open source software, Strabo, "reads" scanned maps for automatically identifying historical locations of places. Our recent collaboration with a title insurance company in the United Kingdom illustrates the significance of this work. Using Strabo, the insurance company is automatically reading historical Ordnance Survey maps (circa 1900 – 1970) covering the entire U.K. to identify likely locations of subterranean contamination, such as factories, mines, quarries, and gas works, which no longer exist and which otherwise would not be known today.
In 2016, we were awarded by the National Science Foundation for a three-year project to build spatially and temporally linked geographic datasets from all editions of the U.S. Geological Survey (USGS) historical topographic maps. This NSF project will develop an approach and software that automatically transform the geographic information in thousands of historical maps to machine-understandable datasets. With such large-scale datasets, researchers in biology, cancer and environmental epidemiology and social sciences will have unique opportunities for answering important questions in studies that require long-term geographic data analysis.
Our research work has produced direct participations of students in computer science, data informatics, spatial sciences, geosciences, history, and communication through the research and teaching activities. Our collaboration with researchers beyond computer and spatial sciences encourages cross-disciplinary training and foster the connections between separate communities. Since 2013, I have directly worked with 45 students and six postdoctoral researchers in our Spatial Computing Lab. These students and researchers came from a variety of background and disciplines, including one local high school student, a number of visiting international students and some USC undergraduate and graduate students in geodesign, electrical engineering, spatial informatics, computer science, and data informatics. We also have a successful track record of working with under-represented groups. A third of the 45 research students are female students in engineering.

Yao-Yi Chiang, Ph.D.
Assistant Professor (Research)
Spatial Sciences and Informatics
University of Southern California
Yao-Yi Chiang is an Assistant Professor (Research) in Spatial Sciences and Informatics at the University of Southern California. Dr. Chiang received his Ph.D. degree in Computer Science from the University of Southern California in 2010; his Bachelor degree in Information Management from the National Taiwan University in 2000. His general area of research is artificial intelligence and data science, with a focus on information integration and spatial data analytics. He develops computer algorithms and applications that discover, collect, fuse, and analyze data from heterogeneous sources to solve real world problems. Dr. Chiang is also an expert on digital map processing and geospatial information system (GIS). In 2016, he received an award from the US National Science Foundation to build linked spatiotemporal datasets from the complete series of USGS historical topographic maps. He has published more than 40 articles on automatic techniques for geospatial data extraction and integration. He teaches Data Mining, Mobile GIS, and Spatial Databases at USC. Dr. Chiang works with a group of talented students in the Spatial Computing Laboratory at the USC Spatial Sciences Institute.
Prior to USC, Dr. Chiang worked as a research scientist for Geosemble Technologies and Fetch Technologies in California. Geosemble Technologies was founded based on a patent on geospatial data fusion techniques, and he was a co-inventor. Geosemble Technologies was acquired by TerraGo and Fetch Technologies was acquired by Connotate, both in 2012.
Cartographic Images in Planning Fieldwork Routes: Field Expertise and Sensitivity to Landscape Features
Topographic maps and aerial photographs are particularly useful when geoscientists are faced with fieldwork tasks such as selecting paths for observation, establishing sampling schemes or defining field regions. These types of images are crucial in bedrock geologic mapping, a cognitively complex field-based problem solving task. Geologic mapping requires the geologist to correctly identify rock types and three dimensional bedrock structures from often partial or poor quality outcrop data, while navigating through unfamiliar terrain. This paper compares the walked routes of novice to expert geologists working in the field (n=66) with the results of a route planning and navigation survey of a similar population of geologists (n=77). During the field study, geologic mapping experts and others who are able to produce highly accurate maps recorded similar spatio-temporal sequences during the task, likely related to development of a reasonable structural hypothesis early in the task.
Results of combined field and survey participants show clearly that those geologists with previous mapping experience make quick and decisive decisions about field areas from available imagery and maps, whether or not they are physically present in the field area. Additionally, clear spatial differences in landscape use across scales by expertise level was apparent, suggesting that sensitivity to physical locations for quality thinking is less pronounced among inexperienced field geologists and correlates strongly with quality of outcome. These results are significant for the education of field researchers as cultivation of sensitivity to opportunities in the landscape for higher quality thinking, whether in the field or during the use of digital images, presents a different sort of instructional challenge than that of directly teaching discipline specific content or traditional mapping skills.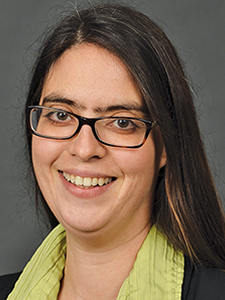 Kathleen Baker
Associate Professor
Department of Geography
Western Michigan University
Kathleen Baker is associate professor in the Department of Geography at Western Michigan University. She is director of the W.E. Upjohn Center for the Study of Geographical Change, founded to promote interdisciplinary research in cartography, geomatics and spatial analysis, and associate director of the Health Data Research, Analysis and Mapping Center, inaugurated to improve access, delivery and analysis of spatial data to improve community health. Dr. Baker has been awarded funding from contracts and grants from such agencies as the USDA and NSF for applied and basic research.
"CEGIS and the Programs It Supports"
The Center of Excellence for Geospatial Information Sciences (CEGIS) is the research arm of the National Geospatial Program of the US Geological Survey. CEGIS provides basic and applied research in geospatial information science from which next generation topographic data and maps can be developed and delivered, and is focused on The National Map and 3DEP data.
From its inception in 2006, CEGIS has been a virtual organization, with Federal researchers in Rolla, MO and Denver, CO and academic affiliates located in universities across the US. The academic affiliate program is one way in which CEGIS works closely with academia, supporting faculty and student researchers engaged in research of interest to the USGS. This program allows our Federal researchers to partner with university scientists to support their geospatial research and to provide student opportunities to be involved in real world research while at the university. Historically, some of these research students have become USGS employees after graduation. CEGIS also supports post graduate Ph.D. students through the USGS Mendenhall post-doctoral program. Additionally, CEGIS employs local university students to work with our Federal researchers. This presentation will be discussing these three programs and the mechanisms CEGIS uses to make them work.

Michael Speak
Manager
Center for Excellence for Geospatial Information Sciences (CEGIS)
U.S. Geological Survey
Michael Speak is the manager of the Center of Excellence for Geospatial Information Sciences (CEGIS), the research arm of the National Geospatial Program of the US Geological Survey (USGS). The CEGIS vision is to conduct, lead and influence the research and innovative solutions required by the National Spatial Data Infrastructure (NSDI) and the emerging GeoSpatial and GeoSemantic Web. He supervises a team of Federal researchers and support staff, and works with university faculty and students through grants and cooperative agreements, to conduct research in support of The National Map and the 3D Elevation Program. Speak has been managing the CEGIS group for the past five years, and has been working at the USGS for over 30 years. He earned a BS in Economics and MS in Computer Science from the University of Missouri – Rolla and an MBA from Webster University in St. Louis.
"Geospatial Innovations at the U.S. Census Bureau"
This presentation will discuss how the Census Bureau is utilizing geospatial technology to aid in the collection, maintenance, improvement, and dissemination of data as it prepares for the 2020 Census. This includes the development of an automated listing and mapping instrument to support field work; the implementation of in-office methods for validating and updating the Census Bureau's address list; the use of Internet self-response methods that include a map component that allows respondents to locate their home; the development of spatial conflation software to conflate local, state and commercial road networks to the MAF/TIGER system; and development of a new data dissemination platform that includes a web-based mapping component that will allow users to query and identify data using an interactive selection map and map the results of any user-defined variable.

Suzanne McArdle
Cartographer & Team Leader
Cartographic Products and Services Branch
Geography Division
U.S. Census Bureau
Suzanne McArdle is a team leader in the Cartographic Products and Services Branch in the Geography Division of the U.S. Census Bureau. She began her career at the Census Bureau in 2008 as a cartographer. McArdle leads the generalization team that produces generalized boundary files to support mapping and data dissemination. She also leads the team that maintains the Census Automated Map Production System (CAMPS), which is a batch mapping system that produces large- and small-format maps to support various Census Bureau programs.
"The Drone Dilemma: How UAVs are Changing the Face of Data Collection for Better or Worse"
UAV technology is undeniably changing the face of data collection. From simple photography, to complex aerial LiDAR, professional industries are seeing improvements in simplicity, efficiency and cost effectiveness using UAV data acquisition processes. The applications of UAV captured data sets are evolving at an ever-expanding rate as industry adoption becomes standard. In this rapidly growing sector, many data gathering procedures are being revolutionized. This ranges from GIS and cartographic applications, to transmission and distribution line inspection and mapping.
As this field rapidly expands, quality assurance, accountability, and transparency, must be maintained as the mapping community explores the possibilities afforded by UAVs. More than one organization has come to regret compromising on conventional wisdom in basic mapping and survey standards in an effort to be at the forefront of sUAS technology.
We explore the good, the bad and the ugly of UAV data collection standards. What are the pitfalls when working with UAVs? What are the advantages? And how can you ensure you are getting the best quality data?

David Ilgenfritz
Co-founder & Director of Business Operations
Flight Evolved, LLC
David Ilgenfritz is the Co-Founder and Director of Business Operations at Flight Evolved, LLC. Flight Evolved is a UAV LiDAR and Thermal data acquisition company, specializing in high density LiDAR mapping and scanning. Flight Evolved works with utility and engineering firms, including: San Diego Gas & Electric, Puget Sound Energy, HDR Engineering, and other utility and municipality organizations.
As Director of Business Operations, Ilgenfritz oversees program management, data delivery and customer relations. This has given him unique insight into the needs of Utility, Survey, and Mapping clients, as well as the shortcomings of many UAV providers.