New independent bookseller Battersea Bookshop by Stanfords is set to open on the 14th of October inside the Grade II* listed building as the Battersea Power Station officially opens to the public.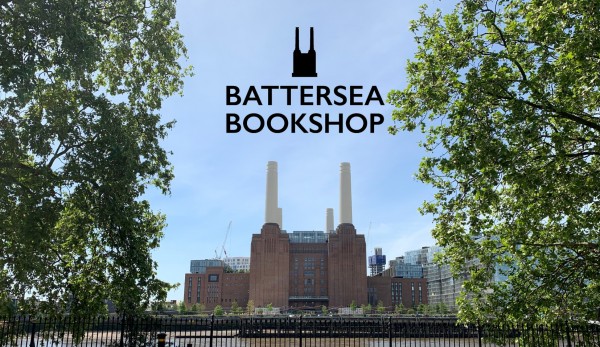 The owners of the Battersea Power Station approached Stanfords two years ago to represent independent booksellers and open a store in the new retail complex. The renowned London bookseller Stanfords was established in 1853 and has a main store in Mercer Walk, Covent Garden. While Stanfords is widely known as a map and travel book specialist, Battersea Bookshop will be a general bookshop stocking a wide range of genres with a focus on architecture, London literature and children's books.
The aim is to provide a bookshop that brings the local community together through book groups, and collaborations with local schools and community organizations. The shop premises will be in Turbine Hall B and has an events space that can be used for launches, author talks, workshops, art and photography exhibitions. There will also be an area in the shop to display photos and artifacts from the Power Station.
Matthew Stevenson, store manager at Battersea Books says;
"We have an amazing team of booksellers ready and waiting to welcome new customers. At the heart of our store, we want to provide a service that truly reflects the ethos of independent bookshops where our staff get to know authors and customers so they can make recommendations and create a sense of community. We will be introducing a Book of the Month and a Children's Book of the Month as well as other promotions and we look forward to becoming a destination customers feel at home in and want to return to again and again".
Since Stanfords opened 169 years ago, they've been a firm fixture in Covent Garden and have amassed some amazingly loyal customers over the years. It is wholly down to their customers and the support of authors that Stanfords survived the pandemic. In 2020 a crowdfunder to save Stanfords raised £150k.
The majority of the costs of the new opening are being covered by the owners of the Power Station and by Stanfords shareholders. They are also being supported by publishers large and small whose books will be stocked. However, there remains a gap between cash in hand and what is needed to operate successfully for the first year so a new crowdfunder is in place to help to close that gap.
While many have already pledged to offer support and make donations for no reward other than supporting independent bookselling, in addition Stanfords have assembled a wide array of rewards for you to select from in return for your contribution. Some examples of the rewards available include dedicated signed copies of books, local guided tours and special maps.
Vivien Godfrey, CEO of Stanfords says;
"Stanfords has been given the opportunity to open a neighborhood bookshop in the newly renovated Battersea Power Station. With the help of our crowdfunder we need your support to build our bookcases, fill our shop with books and hire great staff. Join Michael Palin, Peter Ackroyd and Levison Wood in supporting our new venture.
It's been a rough few years for independent bookshops, we were all hit hard by the pandemic. As bricks and mortar shops with rent, taxes and expert staff, we have expenses that web-only businesses do not have. To be asked to open a store in this iconic London building is such an honor and we would like to bring our years of experience to create something really special in Battersea. We need you to be part of our next chapter and help bring Battersea Bookshop to life."
Battersea Bookshop opens along with the Battersea Power Station on Friday 14th October.
Stay up to date with news and events at Battersea Bookshop by subscribing to the newsletter: https://batterseabookshop.com/newsletter/
About Stanfords
Stanfords is the UK's leading specialist retailer of maps, travel books and other travel accessories, having been established in 1853 by Edward Stanford. Their flagship store in Covent Garden, London, first opened its doors in January 1901 and can justly claim to offer the world's largest stock of maps and travel books under one roof. It has been an essential first port of call for adventure and armchair travelers alike for 161 years. Their roll-call of customers past and present includes such famous names as Amy Johnson, David Livingstone, Scott of the Antarctic, Ernest Shackleton, Florence Nightingale, Ranulph Fiennes, Bill Bryson, Michael Palin, and even Sherlock Holmes.
For further information, visit: https://www.stanfords.co.uk/ and follow @stanfordstravel to keep up to date with the latest news and events.
For media inquiries, please contact:
E: press@stanfords.co.uk
About Battersea Power Station:
Battersea Power Station is one of central London's largest, most visionary and eagerly anticipated new riverside neighborhoods. The £9bn regeneration project will see the creation of a vibrant, mixed-use destination offering a community of homes, shops, restaurants, offices, culture and leisure venues, as well as 19 acres of public space, all serviced by an extension to the London Underground Northern Line.
For further information, please visit www.batterseapowerstation.co.uk and follow @BatterseaPwrStn to keep up to date with the latest news and events.
For media inquiries, please contact:
E: pressoffice@bpsdc.co.uk