IMIA held its Mapping Leaders Forum at the Esri R&D Center in Arlington, Virginia on Thursday, January 30th. The full-day event included more than a dozen topical presentations by industry leaders and provided attendees several opportunities to network with presenters and IMIA members. The post-event social gathering was held at Continental Modern Pool Lounge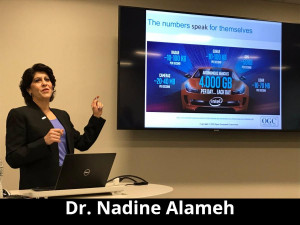 The morning keynote was given by Dr. Nadine Alameh, CEO of the Open Geospatial Consortium. Her presentation "From Geospatial to Location: Evolution and Trends" reviewed the progression from GIS to Geospatial and beyond, underscoring the value of industry standards and OGC's efforts to make location Findable, Accessible, Interoperable, and Reusable (FAIR).
The afternoon keynote presentation by Jaime Schmidt, USFS Acting Assistant Director for Recreation Heritage and Volunteer Resources, provided a look at their Stewardship Approach to U.S. Forest Service Trails Data Management, an initiative that connects people to over 159,000 miles of trails across 154 national forests and grasslands nationwide.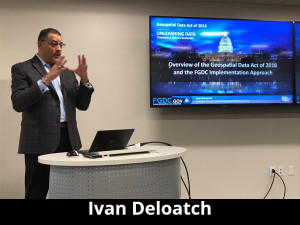 The day included additional tracks and presentations. The government session included presentations from Ivan Deloatch, Executive Director of Federal Geographic Data Committee; Amy Nelson, Deputy GIO at the U.S. Department of Transportation and Shirley Hall, Geospatial Program Manager and Acting GIO at the U.S. Department of Agriculture.
International Mapping's Director of Research
Marissa Wood
presented on boundary disputes around the world.
The National Digital Trails Project was another important topic to cover. Attendees heard from Daniel Morissette, President and Software Engineer at Mapgears; Debbie Fugate, Ph.D., Deputy Director, National Geospatial Program at the U.S. Geological Survey and Esri's Mark Cygan, Director National Mapping Solutions and Dolores Buljevic, National Government Civilian Team Manager.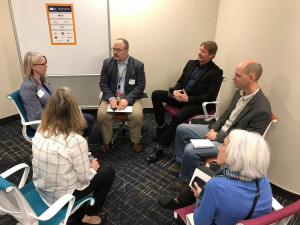 In addition to those valuable sessions, IMIA offered attendees a get-to-know-you session giving them ample time to network among their peers. Members also had the opportunity to provide a quick presentation on their company. Attendees heard from Esri, Azenza Systems, AND Products BV, TrakMaps and Xentity Corporation.
For more information on our speakers and their presentations
,
click here.
IMIA has kicked off the planning for the next Mapping Leaders Forum. Registration is now open for the June 18 event at the Source Hotel in Denver, Colorado. Speakers will be announced soon.Click here to register.
Get Lost in Maps on March 9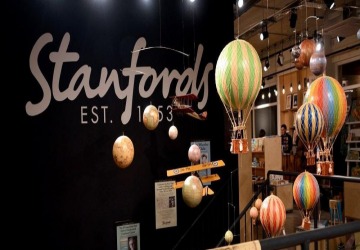 IMIA has teamed up with new member Stanfords to host an exclusive reception on March 9, the eve of the London Bookfair. The event will give attendees the opportunity to connect with industry colleagues while exploring Stanfords' new 5,000-square-foot London location full of more than 55,000 items. Wine, beer and light fare will be served. The event, from 6:00pm to 8:00pm, is free for IMIA members and $25 for non-members.
If you are joining us at Stanfords and heading to the London Bookfair, you may want to make a stop at the Weston Library in Oxford to see the Talking Maps exhibition. Admission is free but it closes on March 8 (the day before our event). For more information, visit the exhibit's website
.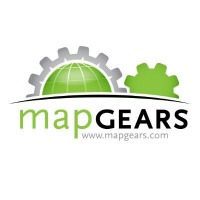 Mapgears is a Canadian company that streamlines the process of creating meaningful mapping applications, 100 percent in the cloud.
Be it for decision-making, operations optimization or information sharing, Mapgears provides the tools and expertise to help its customers reach their business goals by leveraging the incredible data our modern world has to offer: real-time GPS location, satellite imagery, government-issued web services, IoT/AIS data feeds, etc.
For more than 13 years, Mapgears has been working with organizations from a wide variety of industries, ranging from the maritime industry to smart cities, forestry and smaller off-road trails organizations.
IMIA Industry Social

March 9, 2020

Stanfords, London, UK

Register

AutoCarto 2020

May 20, 2020 – May 22, 2020

Redlands, California, USA

Learn more

IMIA Mapping Leaders Forum

June 18, 2020

The Source Hotel, Denver, CO

Register

Frankfurt Bookfair 2020

Oct 14, 2020 – Sun, Oct 18, 2020

Frankfurt, Germany

Learn more