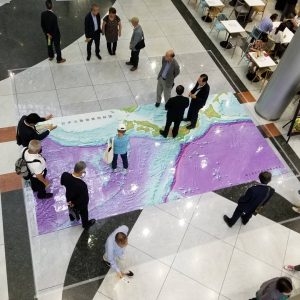 This month, the 2019 International Cartographic Conference took place in Tokyo, Japan. The five-day event, with the theme "Mapping Everything for Everyone" was held in several buildings in Tokyo's central Odaiba district.
The week opened with a reception at the National Museum of Emerging Science and Innovation attended by Their Imperial Highnesses Crown Prince and Crown Princess Akishino.
Keynote addresses were provided by geospatial leaders from the United Nations, Osaka City University, Mapbox, and TomTom. The technical-commercial exhibition featured mapping technology companies and organizations from around the world. In the Telecom Center Building attendees toured the world's best maps in the International Cartographic Exhibition.
This event occurs every other year. ICC 2017 was held in Washington, D.C., and the next ICC 2021 will be in Florence, Italy.