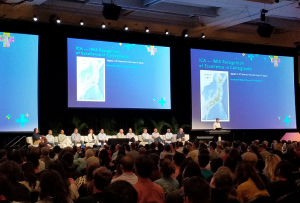 Esri, the world leader in GIS mapping software and IMIA annual sponsor, celebrated their 50th birthday at this year's annual User Conference at the San Diego Convention Center. The five-day conference opened with a plenary session that included world renowned conversationalists Jane Goodall, E.O. Wilson, and Esri co-founders Jack and Laura Dangermond. Each day there were hundreds of presentations on GIS topics and new advances at Esri. The UC Expo featured partner exhibits, demo theaters and areas to explore the latest products.
Each year at UC the Esri Map Gallery is a chance to "tour an expansive collection of beautiful, innovative maps created by our global user community. Each showcases the powerful capabilities of GIS technology and tells stories you'll want to explore." The 2019 Map Gallery was impressive with over 1,000 entries classified into 10+ categories. This year's winners can all be seen here.
The 2019 ICA & IMIA Recognition of Excellence in Cartography had two winners.
"Wildfire Season: Another Record-Setting Fire Season in the Province of B.C." by GeoBC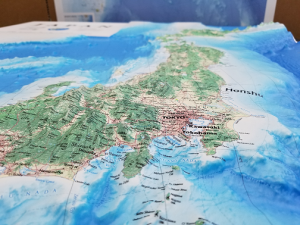 "Japan" (pictured left), a raised-relief collaboration by IMIA member and annual sponsor Benchmark Maps and Summit Terragraphics. The "Japan" map also won Esri's Cartography Special Interest Group Excellence Award
IMIA hosted a member dinner on Wednesday night of the Esri UC, at The Fish Market near the bay overlook and USS Midway. It was a great bayside walk and sunset dinner for our members in attendance. We look forward to doing this again next year.
The 2020 Esri User Conference will take place July 13-17 in San Diego.