Virtual Mapping Leaders Forum: Event Recap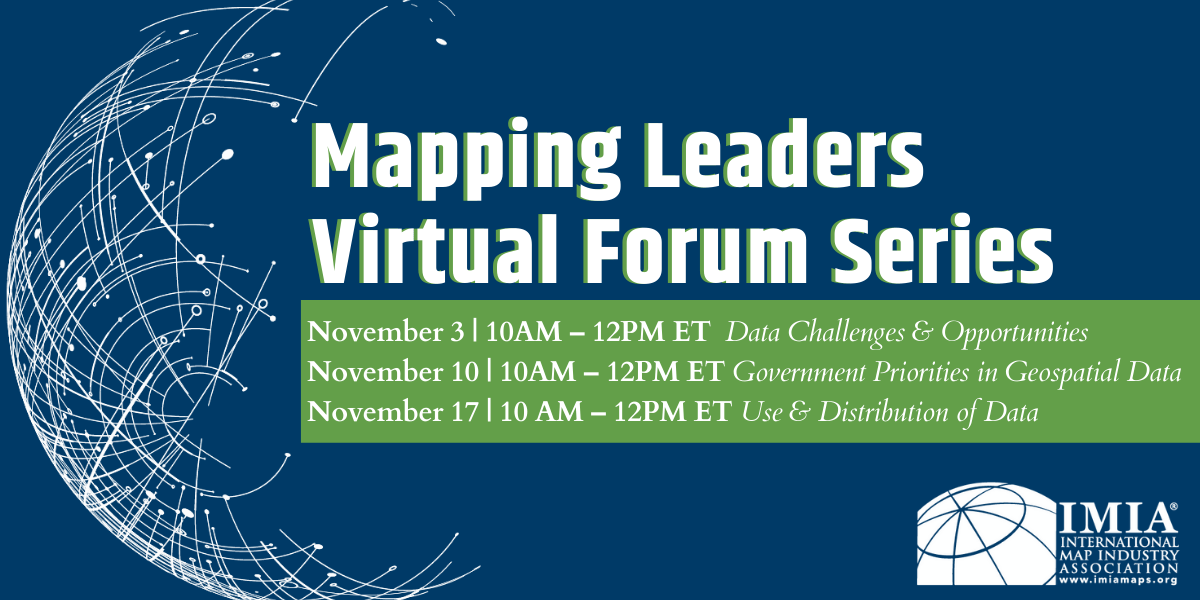 Earlier this month IMIA hosted its Virtual Mapping Leaders Forum, a three-part series of educational presentations and panel discussions with leaders in the map industry. This year's event focused on the challenges, priorities and uses of geospatial data. Each hour-long event was followed by breakout sessions for attendees to continue the conversation among peers. We thank our presenters, moderators, attendees, and sponsors for making this event a success.
Videos of the presentations and panel Q&A are available on our website, linked below.
Part Three: Use & Distribution of Data
A panel discussion on the opportunities and challenges illustrated through open data and government and how it all comes together in the commercial end.
GeoJunxion BV has published its new insurance eBook.
Can Location-Aware Content Reduce Insurance Claims? Discover how embedding intelligence into your insurance operations can empower your analytics.
This great resource is free to view & download, view it here.

Attention IMIA Members: As 2021 comes to an end, make sure that you're set for success in 2022. Be sure to renew your membership to continue to get access to industry content and informative events. Check out our website for upcoming events.
IMIA Welcomes New Members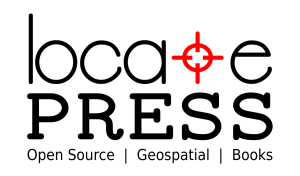 Locate Press publishes books and e-books that support geography educators, GIS trainers, and individual professionals. They teach free and open source geospatial tools for spatial analysis, cartography, web mapping, and desktop GIS. Titles cover the latest technology, including QGIS, PostGIS, Leaflet, and domains such as network routing, hydrological analysis, and map design.
Books are available through standard book distributors such as Ingram, Amazon and their eBook store. Tyler Mitchell started the company ten years ago and has worked with other members of IMIA through his efforts with O'Reilly Media, OSGeo, and FOSS4G events. Locate Press is looking to publish new books on essential topics; reach out if you need a niche technical publisher or have an idea. They are looking forward to networking with other members and helping further geospatial education even more.

Map Adventures has been in business over twenty-seven years. Our reputation of mapping excellence, artistic integrity and attention to detail, has made us the go to map of choice for both the serious and casual recreational user. Our team specializes on creating maps that best represent the targeted map area with our customers recreational needs.
As cartographers, and map publishers we have witnessed the massive changes to the mapping industry over the years and have developed and grown along with those challenges all the while staying true to our map products, and our customers. We sell physical maps and digital maps – that being said, always pack map and compass.
We support public access to the outdoors. In addition to our product line, we have developed hundreds of maps for state, federal parks, and non-profits. Notably, we are the only commercial map company to publish a map of Katahdin Woods and Waters National Monument, the 413th site within the National Park System.

TECNODIDATTICA Società per Azioni
Italy has offered many great explorers and navigators throughout history. This glorious past speaks to our sense of responsibility towards customers we have served since 1949. Tecnodidattica is proud to deliver the best quality map-works for geographic globes….in the world! Tecnodidattica acquired the top-level of the vast Italian geographic-cartographic experience and, inspired by modern Scandinavian design, expanded its collections towards a minimalist interpretation of geography.
Tecnodidattica strives to obtain a large selection of children's cartographies, a technological line of "talking maps" and other technologies tailored to the Alpha Generation. Tecnodidattica is also proud to be the European licensee for National Geographic globes, the most prestigious brand in our field. The company is registered in Italy, but has commercial branches in EU and non-EU countries. Tecnodidattica is not wasting time looking back and moves forward with confidence embracing the future: purchasing Tecnodidattica globes means conquering a piece of Italian style, history and tradition.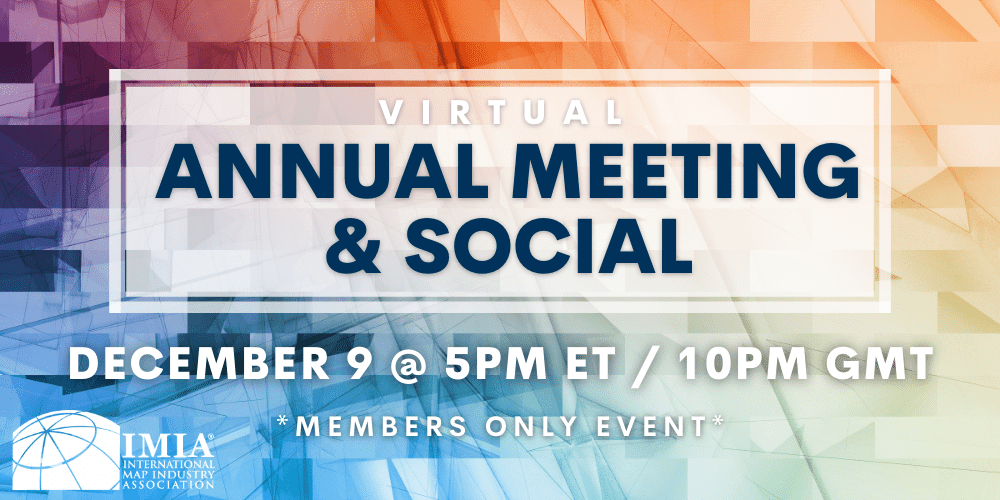 Join us on December 9 for our virtual Annual Meeting & Social at 5PM ET!
This members-only event will consist of brief housekeeping items in preparation for the new year including voting on our board and providing a preview of what's to come in 2022.
But our main focus will be to reconnect with colleagues.
We will breakout into small networking groups so we can have conversations with IMIA members from around the world. Whether your drink of choice is whisky, wine, coffee, tea, or water – fill your cup and let's catch up. There is no cost to attend.
We are looking forward to seeing you there!

The International Cartographic Association (ICA) will host its 30th International Cartographic Conference December 14-18 in Florence, Italy.
On December 16 there is a special session National Mapping, National Geospatial and National Statistical Agencies Day of Collaboration and Information Sharing. The primary focus will be to help national governments transition to the UN-GGIM Integrated Geospatial Information Framework (IGIF), so they are better able to serve their populations.
Leadership Next Podcast with Jack Dangermond, Esri (Founder)
Jack Dangermond founded Esri over 50 years ago & has grown it into a giant private company that provides software to global corporations, governments and NGOs. At its heart, it's a map-making company. But Esri's mission runs deeper than this.
AI driving innovation in geographic information systems
By combining AI with GIS, we will be able to identify the road conditions, show where car parks are needed, where to put 5G networking equipment, help clear canopies from powerlines & plan efficient delivery of public services.
Antonio Natale, GIS expert and project manager at WiseTown, explains why geospatial information technology is ripe for adoption in smart cities, and demonstrates the benefits it can bring.