Twenty Years of Mapping Evolution
The mapping and geospatial industry has witnessed dramatic changes in the past twenty years, particularly in how consumers are accessing, interacting with, and purchasing map-based products.
Twenty years ago, maps were accessed almost exclusively in paper form, mass produced, and bought at a brick & mortar retail store. Today, consumers interact with maps daily on their mobile devices, accessing the precise mapping content they are interested in for anywhere in the world. This daily consumer experience is changing their expectation of map products
A New Era for Product Manufacturing and Distribution
In turn, consumer demand is changing product delivery:
International retail behemoths such as Amazon are changing distribution from national to international
The endless ecommerce retail shelf is enabling sales of the long tail of every product category including books, movies and music to name a few
Modern web and mobile apps, as well as digital printing technologies are allowing for greater personalization and control of finished products
These trends are driving changes to cartographic design, manufacturing, distribution and sales of map products.
The MapSherpa Marketplace
MapSherpa's mission is to deliver to customers the map they want, in the form they want it, anywhere in the world, tomorrow. It's a bold mission with obstacles to success that will take years to achieve, but a mission we strive for every day and every year. But we can't get there alone. For this reason, we're actively developing our marketplace of retail channel partners, printing and fulfillment partners, and publishing and content partners from around the world so we can get closer every day to delivering on this promise.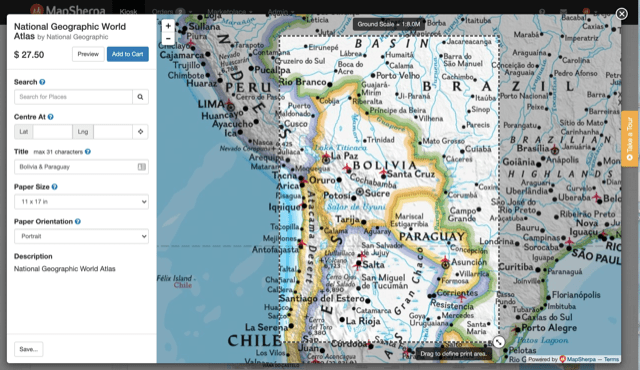 Representing over 30 publishers and content suppliers from around the world, today we are actively manufacturing and selling products in North America, Europe and Australia in a growing selection of print finishes through a variety of channel partners including Amazon, map stores around the world, and following our acquisition of Mapsofworld.com, directly to over 20 million site visitors a year.
New Distribution Opportunities
If you are a Publisher or geospatial content owner looking for new ways to diversify your product offerings and sell into new markets and new channels – MapSherpa is ready to help bring your content to the world in a rapidly growing, secure, and accountable environment.