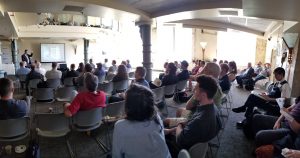 The International Map Industry Association held its 4th Annual Denver Meetup on Thursday, June 13th. The event was hosted by the University of Colorado's E.D.G.E. (Every Day Geological Experiences) student group at the historic Tivoli Station. The day provided a forum for map industry leaders to network, collaborate and learn from each other through an array of thought-provoking presentations.
Morning keynote speaker Brian Timoney's, "The Fork In the Road Has Already Been Taken", offered a fascinating look at the elements of big data and its effects on the geospatial economy. The Government Mapping track provided a look at the upcoming 2020 census and updates on the NPS Park Atlas Project and the Alaska 3D Elevation Program by USGS. Recreation Mapping presentations included app demonstrations and innovations by the founders of Adventure Safely, Topo Maps+ and OuterSpatial by Trailhead Labs.
After the networking lunch, the afternoon session on the Business of Maps began with location intelligence by Shedlight Solutions. IMIA board member Mani Singh, CEO of NextByte Technologies in Delhi, India, gave a revealing look at "mapping the longtail of web traffic." And newly elected IMIA board member and Esri's Director of National Mapping & Statistics Solutions Mark Cygan reflected on geospatial industry developments and achievements that once seemed impossible but were made a reality by long-term visionaries and thought leaders.
Then there was something new, a fireside chat with incoming IMIA President Dave McIlhagga, Founder and CEO of MapSherpa and three past association presidents: Dan Ortiz of National Geographic Maps, Bennett Moe of Headwall Media and Dave Knipfer of Mapping Specialists. The discussion involved the experiences of these industry leaders within the association, their career successes made possible by this network and the organizational strengths that are being carried into a new era for the International Map Industry Association. Their stories and insights demonstrated the value of IMIA to its current and future members.
The final session of the day focused on the Data of Maps, with examples of keeping data light on its feet at Kspatial and data-driven operational excellence at the Colorado DOT. The day ended with the most energetic presentation of the day by Esri's Dr. Joseph Kerski on why geospatial data quality matters more now than ever and how we will continue to make mind-blowing advances as we always have.
It was a great day of learning, networking, and business planning with map industry leaders. The event was followed by food and drinks downstairs at the historic Tivoli Brewing Company. We would like to thank our event sponsors CU-Denver's E.D.G.E. student group and Frederic Printing, and our annual sponsors that helped make this event possible.