Optimizing Land Use to Provide for Future Needs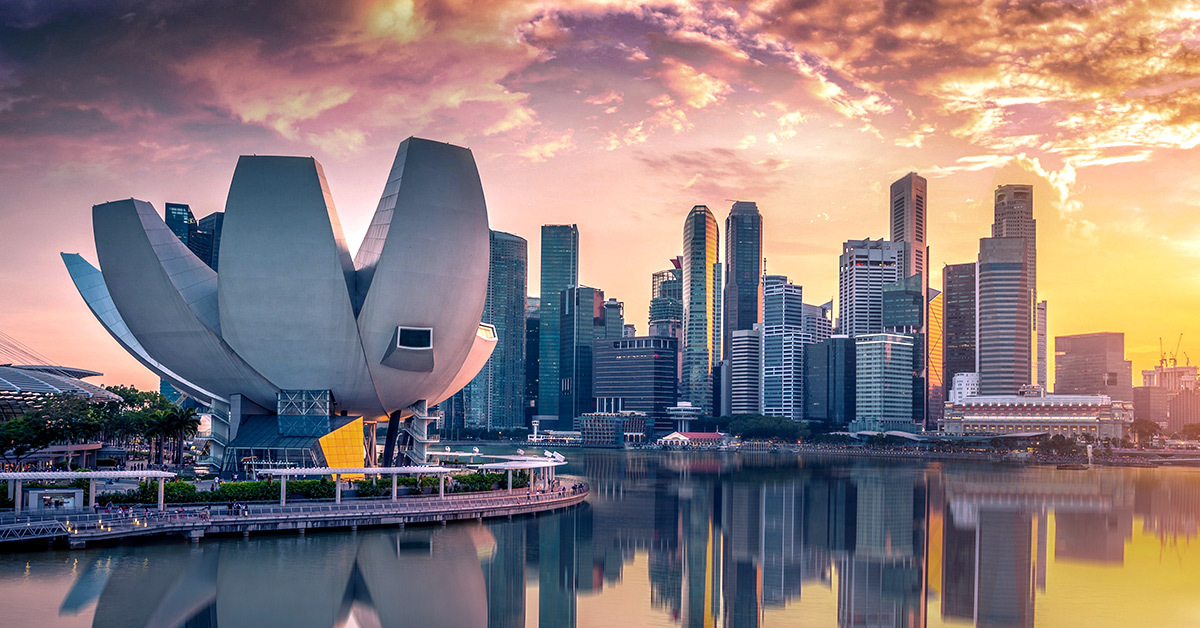 With a size of 722 square kilometers (279 square miles) and a growing population that stands at 5.5 million residents, the island city-state of Singapore needs to make use of all available space. The country's meteoric rise from a third world nation to a first world country has meant that economic growth has far outpaced land growth. As a result, Singapore has been forced to get creative in making the most of its limited resources and landholdings.
Since its independence, Singapore has rallied around long-term plans to chart housing, job development, and infrastructure investments. These plans have focused on maintaining green spaces, recycling, and adapting to changing conditions. The recently added supertrees have become iconic structures that symbolize this green country while increasing shade and adding oxygen.
Digital map of Singapore with shaded blue and brown areas to represent potential future buildings. A living digital twin of Singapore uses shaded blue and brown areas to represent potential buildings, showing how the skyline would change if they were built.
Singapore's integrated map system, called OneMap, informs development plans and daily government operations. Singapore Land Authority creates and manages this centralized mapping platform using geographic information system (GIS) technology. The platform acts as a point of truth about what is where in the country, delivering location-as-a-service data to a large number of purpose-built government and citizen-oriented applications. A recently released mobile app for citizens delivers live traffic feeds and routing, including highlighting walking routes that are sheltered from frequent rains.
The country's geospatial data contained in OneMap provides a pillar to Singapore's Smart Nation strategy.
Singapore's living digital twin effort marks an important marriage of GIS and building information modeling (BIM) data, integrating planning and construction documents within the broader context of the country. This project is progressing, with pilot tests to see how microwaves travel through high-density areas to detect dark spots in cellular network coverage and to model natural phenomena such as sea level rise and flash floods.