Amazon has emerged as the biggest retail channel in the world, and if you're selling maps and related products to consumers or business – it's a channel that must be part of your overall sales strategy.
That Amazon is the world's biggest retailer should be no surprise to anyone, but to put in perspective just how big Amazon has become, here are a few key statistics:
In the USA alone, Amazon is expected to own just under 40% of the e-commerce market in 2022, significantly more than the following 15 biggest e-commerce stores combined (including Walmart, Apple, eBay, Target, Best Buy, and Home Depot).
Amazon is now operating warehouses in 26 countries that represent over 60% of the world's GDP.
Amazon spends over $78 Billion USD annually on shipping and fulfillment alone.
Amazon generates more advertising revenue than Youtube.
As the world's biggest Map Store, Amazon is a massive and growing opportunity for the map industry. However, due to its size and complexity – working effectively on Amazon can be a challenge that requires dedicated effort, agility, and a keen eye on your finances to ensure the business is not only high volume but profitable too.
Selling on Amazon – The Basics
There are two primary mechanisms to sell maps through Amazon:
   1. Vendor Relationship
This is the traditional retail relationship that was initially put in place by Amazon to purchase products from publishers and wholesalers. As a vendor, Amazon orders products from you – and then sells them to their customers.
Most vendors today are a legacy of Amazon's original business, with a select few new suppliers invited to become vendors. This is because Amazon has found their resources are best spent on managing the highest volume products in the ecosystem while benefiting from the high profitability and low overhead of Seller relationships for the vast majority of products. There is continuous speculation that Amazon will begin transitioning vendors to sellers, so if you are an existing Amazon Vendor, it's important you keep a close eye on Amazon's actions in this area, as the switch to becoming a Seller is a big change in how you operate with Amazon.
   2. Seller Relationship
Sellers on Amazon are able to list and manage products on the Amazon Marketplace with Amazon collecting a referral fee for all sales. In this relationship, Amazon handles all of the mechanics of generating and processing sales of your products but pushes the responsibility of the customer relationship to you as the seller. You are responsible for managing your inventory, pricing, returns, and increasingly, marketing of your products within the Amazon Marketplace.
Sellers can control how your products are delivered to customers. The Fulfilled By Merchant (FBM) program allows you to deliver products directly to customers on confirmed sales. Fulfillment By Amazon (FBA) is a more recent program that lets you manage your inventory within Amazon's massive warehousing, fulfillment, and delivery infrastructure. There are many benefits to being part of the FBA program, including having your products eligible for free shipping to Prime members and leaving Amazon to handle most customer service inquiries. But, all of this comes at a cost – sometimes not so visible – that needs to be carefully managed and tracked.
Marketing on Amazon
As Amazon has become the 'go-to' source of consumer products – it's invested a lot of effort in finding ways to push sellers and vendors to compete for the valuable screen real estate where your products can get visibility to eager buyers. The most lucrative of these for Amazon is the Sponsored Ads program – where vendors and sellers can pay for top positioning. Amazon's algorithms are not as simple as giving the top spot to the highest bidder, as Amazon does want to see high conversion rates of visitors to sales and quality experience for customers – but pay to play is an increasing part of the Amazon success formula. Because Amazon heavily promotes this program, in conjunction with urging sellers and vendors to reduce prices to keep up with the competition, if you're not careful, you can find yourself with high sales volume, and no net margin remaining or even losses.
Advertising is an important aspect of being successful on Amazon but is only effective when done in conjunction with managing high-quality listings, achieving high ratings from your customers, and carefully managing revenue and costs, especially when leveraging the FBA program.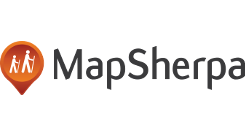 Developing your Amazon Strategy
We've only scratched the surface of how to effectively manage Amazon as a channel for your map product sales, as there are many programs and techniques available to maximize success. Amazon is eager to provide you with a lot of tips, techniques, and tools for getting the most sales possible from the Amazon ecosystem, however, it's important to keep in mind that Amazon is primarily motivated in these programs to maximize their own growth, profitability, and customer retention. It's critical that you consistently measure and learn from the tools and techniques you leverage on Amazon to determine what is truly most effective for your business.
Through many years of selling map products on Amazon in North America and Europe, the MapSherpa team has and continues to learn how to get the most out of Amazon for our growing ecosystem of publishing partners. Although having an Amazon Strategy is critical for your company in today's e-commerce landscape, this doesn't have to be done on your own. MapSherpa is here to provide the support you need in part or all of your Amazon Strategy to maximize your success, allowing you to concentrate on what's most important for your business.