Social at Stanfords Event
IMIA hosted a very well-attended reception for members and prospective members on Monday, April 4th at the London branch of IMIA member Stanfords. This was a repeat of an event held at Stanfords almost exactly two years ago in 2020 on the eve of the London Book Fair.
There were 21 guests representing 13 member organizations who came for the evening and 7 prospective members also joined the event.
The group was delighted to welcome Professor James Cheshire to speak about his work and include the three books he has published. His primary message was that interest in cartography as a way to present data is attracting significant interest from students of subjects beyond geography. Interest in the classes he offers at the University College of London has grown significantly over the past few years.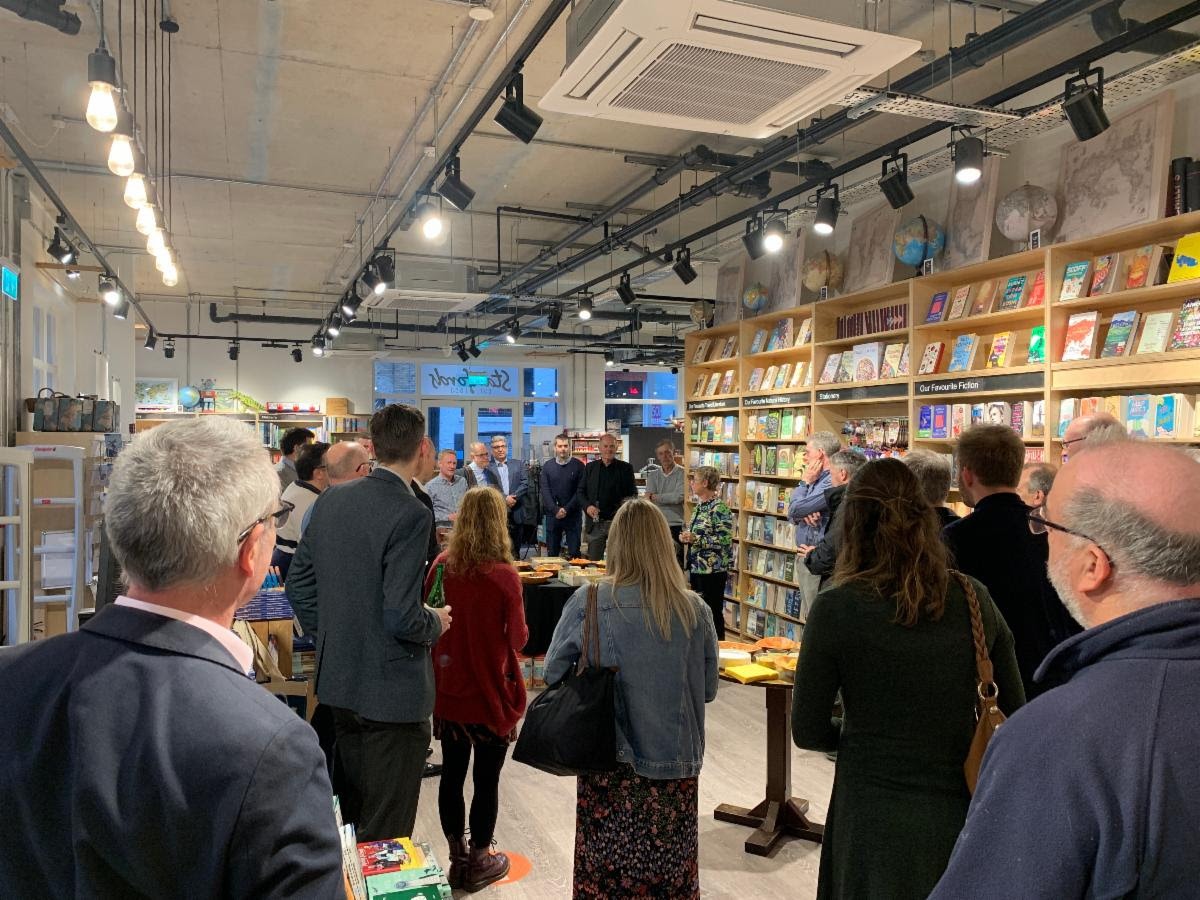 The attendees enjoyed refreshments and the opportunity to explore the Stanfords London shop which is spread across two large floors in the Covent Garden area of London.
We hope to repeat this event next year so mark your calendar now to visit London in April 2023.
The International Mapping Industry Association is saddened by the loss of two of our biggest supporters:
John Cassidy & Peter Jolly.
John Cassidy, fresh out of college in the mid-1980s, set out on a career-consuming journey to help bring street map data out of government files and make it available and serviceable for commercial use. This endeavor that Cassidy was part of while working at Geographic Data Technology (GDT); Tele Atlas; and, later, Esri partner TomTom ended up morphing into a digital mapping revolution that still reverberates today.
Throughout his career, Cassidy remained a leader in advancing street map data and became a visionary for how to apply GIS to business issues.
After a long and rewarding career helping to bring street map data to the point that it is now used by governments, businesses, and people all around the world, every day, without much thought, Cassidy retired in 2019. Read more about his life from Esri, linked here.
Peter Jolly actualized his childhood dream of joining the RAF in 1965 by becoming a Navigator and enjoyed the directional and tactical aspects of flight navigation. He concluded his RAF days as a Wing Commander, having enjoyed a satisfyingly varied career, which included work on several interesting mapping-related projects.
In his late 40s, during his final RAF tour, he became involved with the University of South Glamorgan who had created a computer application for placing text on maps. He left the RAF to take on the role of project manager of this venture – Maplex. He then joined ESRI, where his love and knowledge of maps and charts led to membership, participation, and leadership in some leading associated groups:
IMIA Lifetime Award, September 2011
IMIA International President, 2005-2006
IMIA EAME President, 2003-2004
BCS President, December 2010 to November 2012
BCS Council, September 2005-2011
He retired from ESRI in his 60s and found his way to a volunteer position in Oxford's Bodleian Library Map Room. To honor his memory, his family started a tribute with donations going to the Royal National Lifeboat Institution, linked here.

CALL FOR JUDGES
We're looking for 2-3 individuals planning to attend or are interested in attending the upcoming Esri User Conference in San Diego, CA from July 11-15
to serve as judges for the ICA-IMIA Awards.
Interested? Want to learn more? Let us know!
Seppe Cassettari, Director at GeoHistoric
Jim Goldsmith, Senior Production Manager, Cartographic Production at Ordnance Survey
Dan Puskar, President and CEO at Public Lands Alliance
Moderator Bridger DeVille, Sales & Marketing Director at Benchmark Maps
Be sure to mark your calendar!
June 22 & 23, 2022
*In-person event*
More information to come soon for this event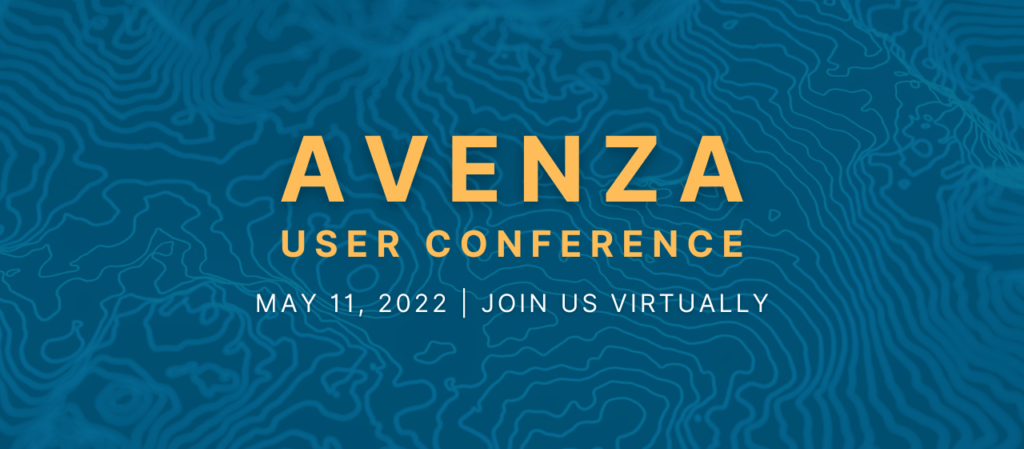 The Avenza User Conference (May 11, 2022) is a free, day-long virtual conference for map makers, GIS enthusiasts, and geospatial professionals worldwide who share a common interest in Avenza mapping technology. Save the date in your calendars!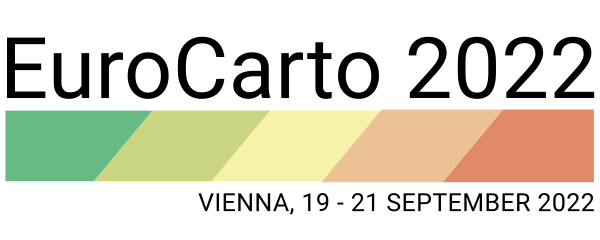 EuroCarto 2022 (September 19-21) will consist of a three-day program with speaker presentations and an accompanying poster exhibition of accepted submissions.
We aim to bring together Cartographers and those working in related disciplines to offer a platform of discussion, exchange and stimulation of research and joined projects.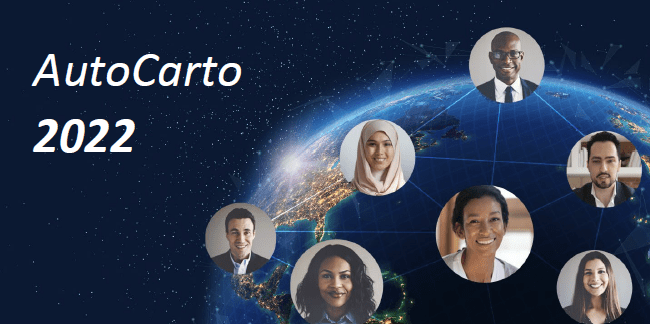 AutoCarto 2022 (November 2-4, 2022) brings attention to ethical responsibilities we face in all aspects of our discipline with conversations on the power of maps and the critical need for integrity, inclusion, and empathy in cartography and GIScience. This event is in-person and virtual.
Submissions on topics from all areas of cartographic and geographic information science are welcome.