Recreation atlas publisher reflects on mapping the American West and beyond

Benchmark Maps is celebrating 25 years of mapping the American West. In 1995, the first edition of the New Mexico Road & Recreation Atlas was published, the product of a collaboration between three small map companies in California and Oregon. They shared a common vision for a large-format printed atlas, one that would help travelers to better explore the diversity of America's public lands and the evolving network of highways and byways that connect them. After finding early success, their newly launched partnership, Benchmark Maps, began working on more state atlases, using field-checking to improve upon the spatial data available at the time. They quickly found there was no substitute for driving the roads, talking with local experts, and visiting the places their customers would be exploring for themselves with an atlas in hand.
Expanding their geographic coverage through the Southwest, up the Pacific Coast and into the Rocky Mountains, each new state required an average of two years of field and desk work to meet Benchmark Maps' high standards of cartographic design and editorial content. "Early on we focused on new ways of illustrating terrain and collecting more backroad detail," said Neil Allen, Benchmark Maps' production director who was involved in that first atlas. "It was a slow process, but we knew the results could provide unparalleled value to road travelers. As the internet, GIS, and design software improved dramatically in the 2000s, we became much more efficient at map production, which in turn allowed us to maintain and improve our field-checking work. In that respect not much has changed since 1995. We still drive the roads, take notes, and interview the various public land management agencies."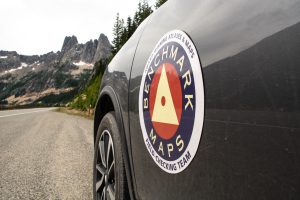 The economic recession eleven years ago was tough on most small businesses, and Benchmark Maps was no exception. After a couple of very lean years and some reorganization, the company's energy was renewed in the early twenty-tens by new owner John Glanville of Santa Barbara, California. He brought together old and new teammates, rejuvenated Benchmark Maps' production hub in Medford, Oregon, and set out to continue the mission of publishing highly accurate, visually stunning, and award-winning recreation map products.
After twenty-five years, the result is Benchmark Maps' current line of thirteen printed state atlases, twenty-one folded maps, and dozens of digital map titles that are all distributed throughout North America and abroad. Their published titles and custom cartographic projects have won several industry awards from the International Cartographic Association, the International Map Industry Association, and Environmental Systems Research Institute (Esri). Most importantly to the Benchmark Maps team, they have built a loyal customer base of discriminating map users that appreciate the meaning of "field-checked for accuracy". In the spring of 2020, they released both a 10th edition New Mexico Road & Recreation Atlas and the new 1st edition Southern Appalachians Road & Recreation Atlas, another two-year production effort which further expands their coverage of America's recreation parklands.
Benchmark Maps' expertise in mapping public lands and back roads has proved to be a prized strength in recent years as more and more travelers turn to lifestyles like boondocking and "van life." These self-sustained pursuits allow explorers to truly get off the grid in their search for solitude, relying on detailed, field-checked data to find the perfect campsite.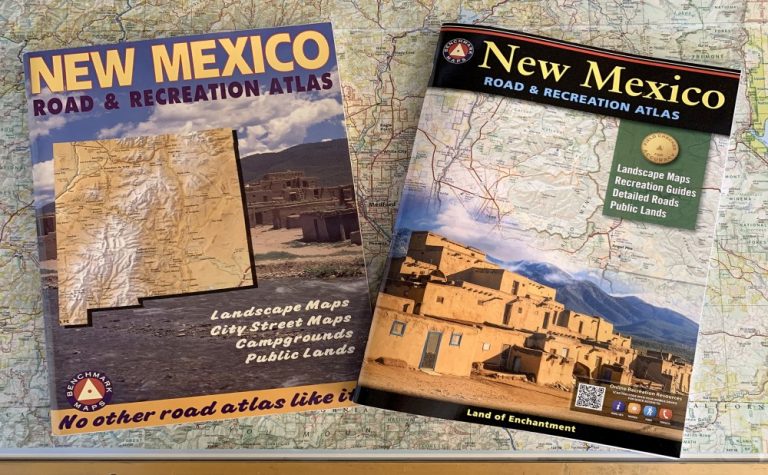 "This field-checked content is more relevant today than ever." Says Benchmark Maps' sales director Bridger DeVille. He reports that, "While the retail settings and distribution channels for maps have been greatly disrupted by the COVID-19 pandemic, we are seeing growth in direct online sales and digital map sales through our mobile app partners Avenza Maps and TopoMaps+. Custom map inquiries are up as businesses realize the need to visualize their operational geographies. It has been encouraging to see positive responses to our new atlas title despite the times we are in, and we greatly appreciate the engaging support of our map users and social media followers."
Owner and General Manager John Glanville adds, "Benchmark Maps will continue to develop and publish the industry's best recreation atlases as we have for the past twenty-five years, but with a heightened focus on the safety and well-being of our staff and community of map users. We share and revere the collective enthusiasm of our customers to get back to nature, and to return to our parks and forests as the warmer seasons arrive. To our community of explorers, we wish safe travels and encourage extra preparation as you return to road travel and our public lands."