IMIA's 2020 Mapping Leaders Virtual Forum Series kicked off with the Government session on Sept. 16, sponsored by Esri. Speakers Jim Castagneri, Geographic Coordinator at U.S. Census Bureau; Janice Sharpe, Senior Director, Federal Geospatial Platform, Canada Centre for Mapping and Earth Observation at Natural Resources Canada and Dr. Michael Tischler, Director, National Geospatial Program at USGS shared the latest developments in open data applications and discussed the varied effects of COVID-19 on their government agencies.
For Castagneri and the Census Bureau, 2020 has been a tough year. "This will be my fourth census and it's been the most challenging," said Castagneri.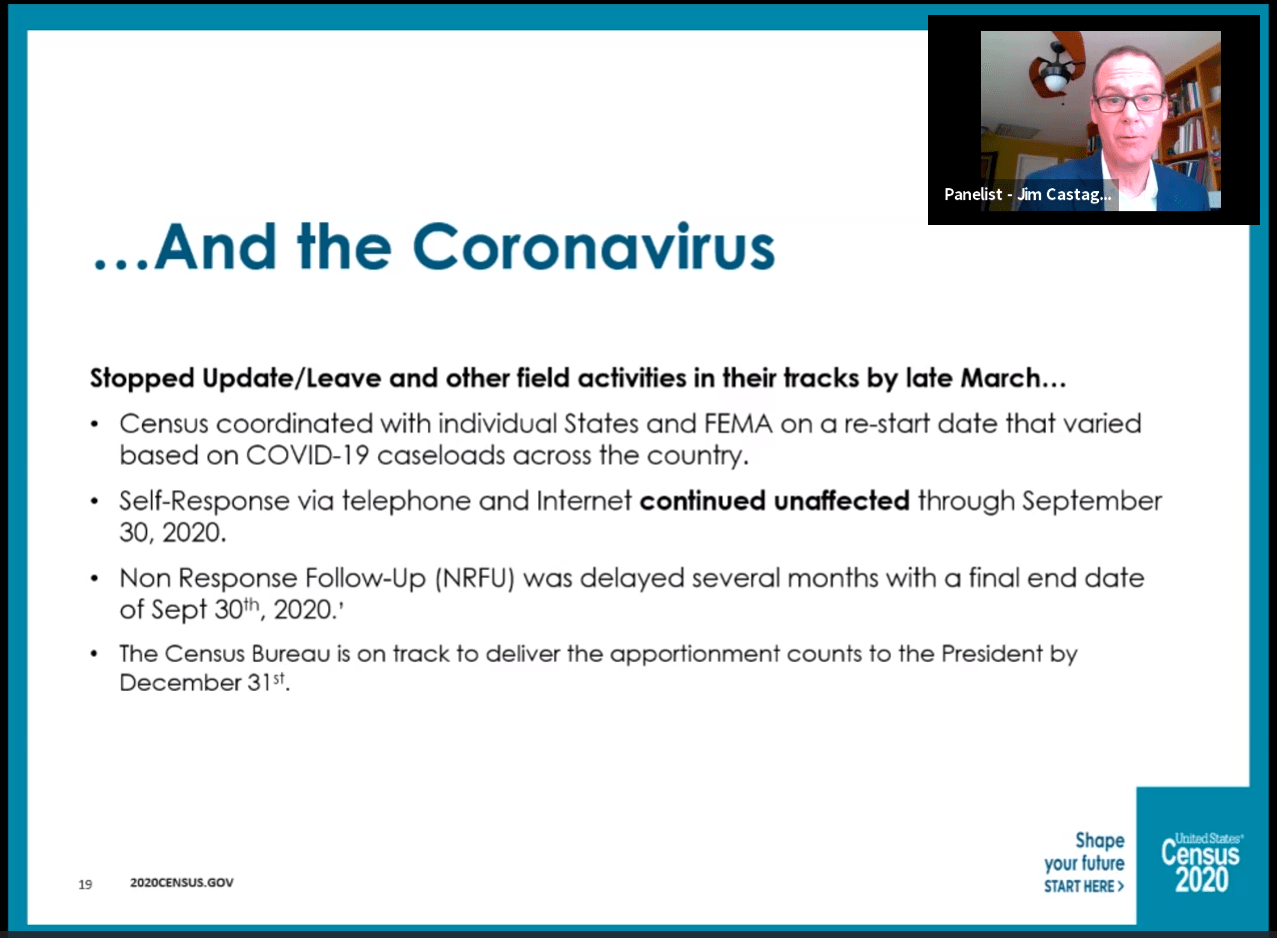 Between court cases and political arguments over the inclusion of undocumented residents and the arrival of COVID-19 in March, the Bureau had to make numerous adjustments to their collection efforts.
"We started field operations…in areas of the country where we use the traditional census methods to count, such as door-to-door visits, right about the time that coronavirus hit us hard," explained Castagneri.
While the agency consulted with individual states and FEMA to figure out when canvassing could safely continue, the agency pivoted to internet and phone platforms for residents to self-respond. With these efforts and the final push for residents to complete the census, Castagneri expects the agency to deliver the apportionment counts to the President by the end of December. Redistricting data will likely be available sometime later than normal, probably July 2021.
"The Census Bureau is very aware that this creates some problems and challenges for some states. [We're] doing what we can to make that data available as soon as possible, with the redistricting data office helping states as needed," says Castagneri. Finally, there will also be some delay in reporting the geographic data that many users are looking for — it is expected sometime in late January or February 2021.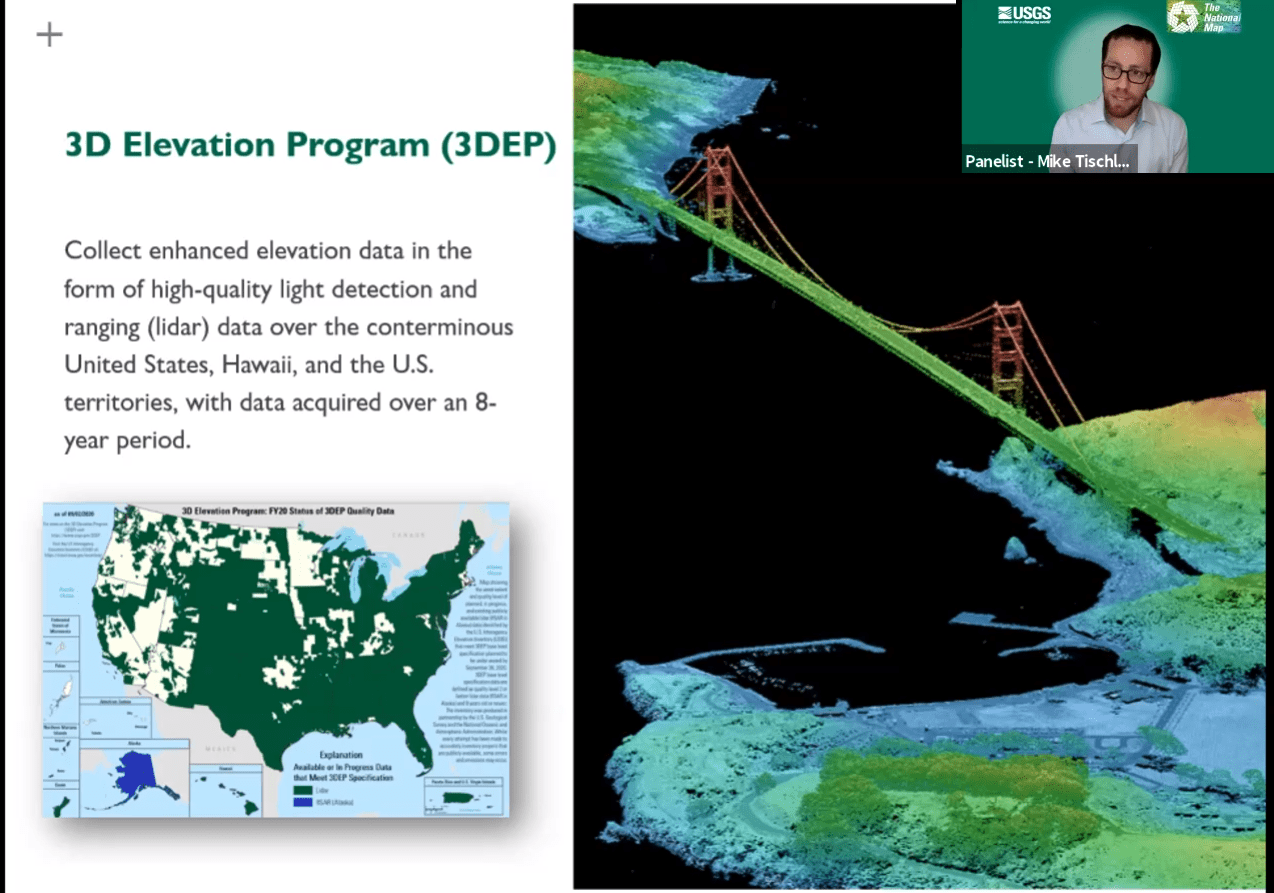 Tischler also provided insight into how the National Geospatial Program (NGP) and USGS responded to the challenges of COVID-19.
"Like all residents and government agencies, we were affected by COVID and I am really proud of the way…my own program and USGS have responded in order to meet the missions that we are tasked with providing," he said. "It has been awe-inspiring to see how different parts of the USGS and the federal government have been able to come together to provide products and services and data and information to inform policymakers and legislators and even citizens for their own decisions."
The mission of National Geospatial Program is to provide topographic information to advance science, support government, and enlighten citizens to enable decision making. "It's not just data for data's sake — we want to make it usable," Tischler said. "We want to make sure that people are leveraging their decisions with this information, and we certainly understand that there's a responsibility in how we provide that data."
The final speaker for this session was Janice Sharpe, who shared a Canadian's perspective on mapping and geospatial data in federal agencies. The Canada Centre for Mapping and Earth Observation at Natural Resources Canada works with her country's federal departments and agencies to "voluntarily publish open geospatial data, and to share that on our open government site that we call Open Maps," which is a search and discovery portal.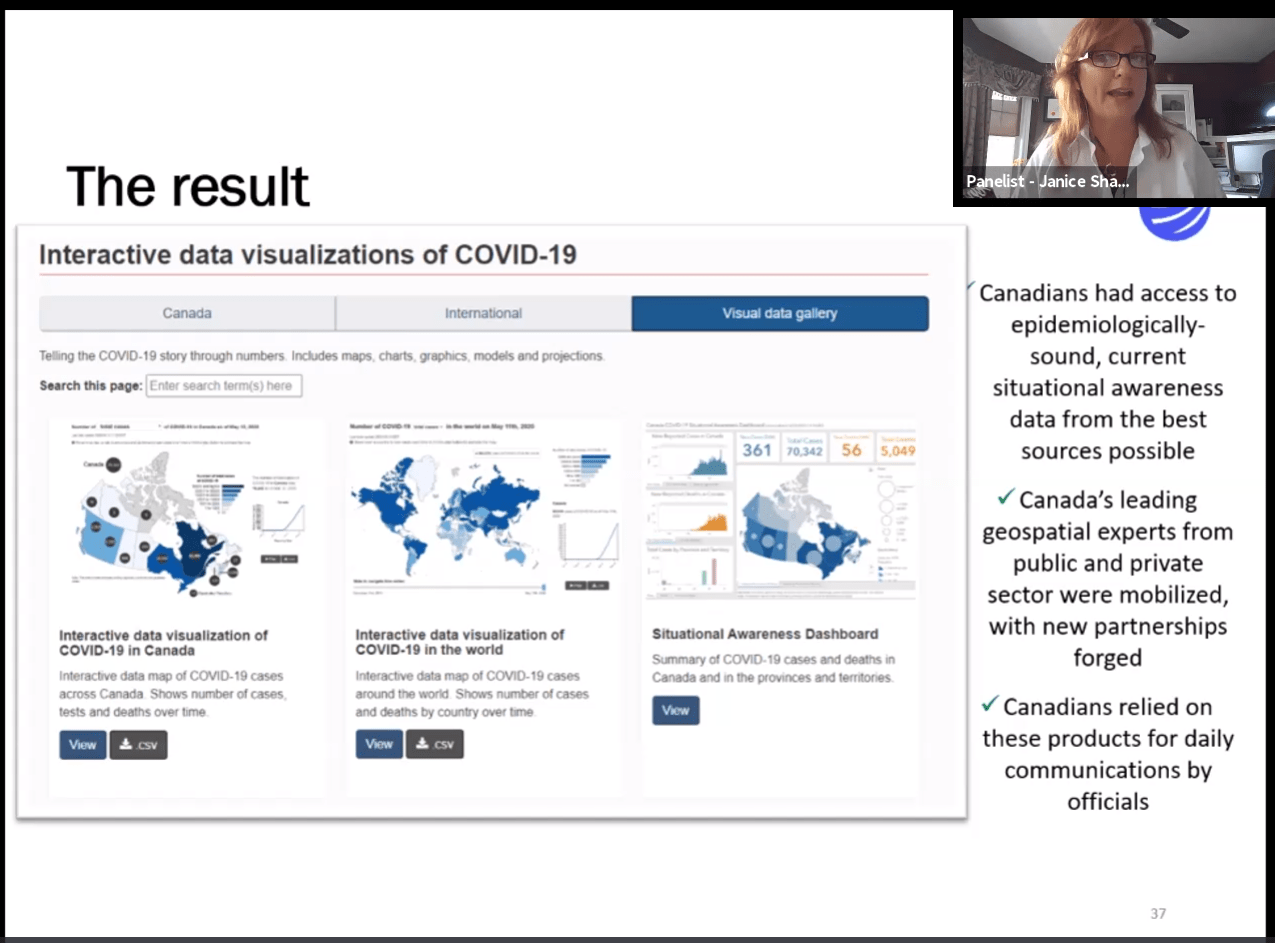 Sharpe reported that her agency is also working closely with provincial and territorial governments to make their open geospatial data discoverable in the same database.
"In the coming year we're going to be launching an exciting new version of our portal, and…sharing our Earth observation products," Sharpe said. "In a time of big data analytics we really need to be able to put all of this data together and make it accessible in one place." Canada's Open Government movement fits closely with "the growing desire by our citizenship for data and information at their fingertips," she added.
Sharpe also talked about the changing role of the federal government in geomatics.
"In my view there continue to be opportunities for government mapping organizations to continue to push themselves and position themselves as the base upon which programs are delivered and monitored and upon which we obtained information about our country's landmass, and upon which we can map important social health and economic data to see and control and predict things like emergency situations," she said.