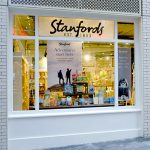 Edward Stanford Limited was founded in 1853 by Edward Stanford in Charing Cross in London. In 1901 the Company moved to Long Acre, Covent Garden. Famed throughout the World as a publisher of maps, Stanfords expanded into retail following the move to Covent Garden. In 2019 Stanfords traveled around the corner from Long Acre to a new home at 7 Mercer Walk very close to the Covent Garden tube station. Stanfords looks forward to welcoming members of IMIA members to the London new shop.
Stanfords stocks the largest range of maps in the World as well as travel guides, maritime charts, the world's largest selection of globes and other travel related product. It has a further shop in Bristol and a specialist Business Mapping Service based in Manchester. Stanfords plans to open a retail shop in Manchester in 2020.
The company also sells online at www.stanfords.co.uk.