Advancing Ethics in Cartography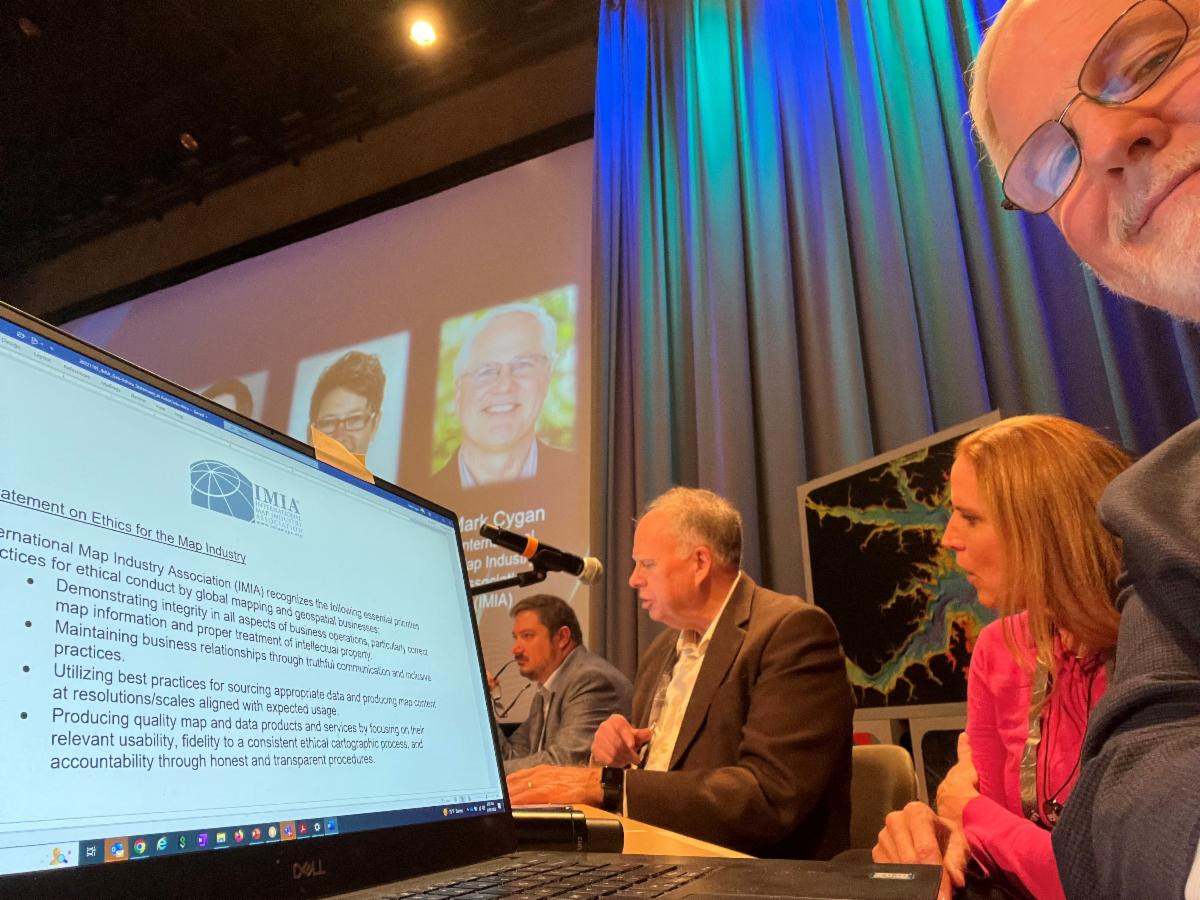 In November, CaGIS held AutoCarto 2022, the 24th International Research Symposium, at the Esri Campus in Redlands, California. With a focus on the intersection of payid casinos aus cartography and GIScience, this event brought attention to the ethical responsibilities we face in all aspects of mapping.
CaGIS, a new affiliate partner of IMIA, organized a key workshop titled "Advancing Ethics in Cartography" which reviewed progress to date on developing a set of guiding value principles for ethics in cartography.
IMIA was represented on the panel by advisory board member and Director of National Mapping at Esri, Mark Cygan. Other industry experts on the panel were Aileen Buckley of Esri & ICA, Alexander Kent of the British Cartographic Society, ICA President Tim Trainor, and ICA Secretary-General Thomas Schulz. The discussion revolved around the responsibilities cartographers and mapmakers have for ensuring that a map's content and design do no harm and the fundamental baselines for ethical map-making to ensure that the authority of maps endures.
Annual Meeting & Social Recap
2023 Board Slate
On December 1, members voted on the following board slate for 2023:
Americas
Bridger DeVille, Benchmark Maps
Alex Lee, East View Geospatial
Dave Knipfer, Mapping Specialists, Ltd.
Europe / Middle East / Africa
Vivien Godfrey, Edward Stanford Group Limited
Thierry Jaccoud, Individual Membership
Asia Pacific
Greg Lauer, East View Geospatial
Mani Singh, NextByte Technologies, Inc.
Call For Presentations: 2023 Denver Mapping Leaders Forum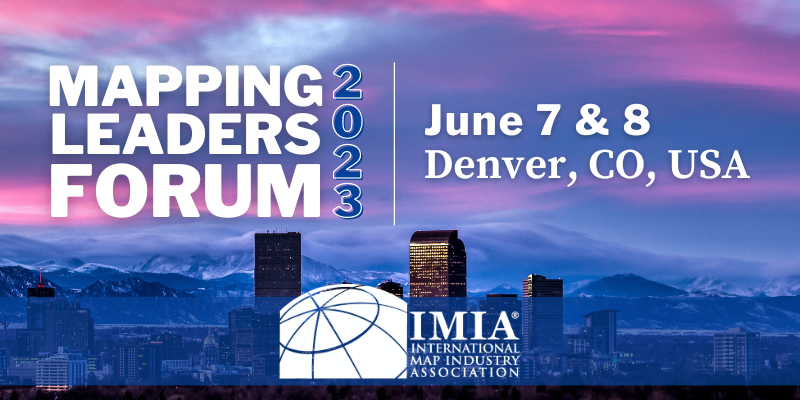 IMIA will hold our next in-person Mapping Leaders Forum in Denver, Colorado on June 7-8, 2023. Keeping with our goals of advancing education and business networking, this event will combine valuable presentations with panel discussions and networking sessions, allowing attendees to meet new members and catch up with industry colleagues from around the globe.
We invite members and prospective members to propose content or presentations for the main event on June 8. There will be a variety of speaking formats including:
· brief "lightning talks" that focus on a specific product or aspect of your business
· panel discussions to share your insights and observations with other business leaders,
· or extended presentations (potential keynote) to review a prevalent industry topic and engage the audience with a Q&A session.
Thematic guidelines are not set at this time, but will include: industry trends, new products (print or digital), new tech development, progressing government initiatives, geospatial data management, mapping for outdoor recreation, and more.
Our international members are particularly interested in discussing shared experiences regarding business operations post-Covid such as communication platforms, cybersecurity, and managing remote staff (or getting them back to the office).
We are also excited to introduce Partner Day on June 7. This additional day is being led by IMIA sponsors East View Companies, Harper Collins Publishing, MapSherpa, and National Geographic Maps. Programming will feature presentations on their latest company initiatives and panel discussions focused on developing valuable partnerships among industry leaders navigating current global markets to maximize distribution and recognizing new opportunities for revenue growth.
We welcome content proposals to imia@oferrallgroup.com or message us through social media. Don't miss your chance to apply! And stay tuned to our Denver 2023 Event Page and social media feeds for more event and venue information coming soon!
Welcoming a New IMIA Member
Imray is the leading publisher of nautical information for leisure sailors. We publish award-winning electronic and paper nautical charts, high-quality pilot books and cruising guides by prominent sailing authors and clubs, and nautical information via our apps.
Imray was formed in 1904 when three chart publishing firms merged. It is still owned and run by descendants of the original founders, and operates with an independent, family-run ethos. Our small expert team of cartographers, editors, product designers and operations staff work closely with the sailing community to commission, publish and distribute our comprehensive range of charts and cruising guides for popular sailing areas worldwide. We are also distributors for the UKHO (Admiralty), Royal Yachting Association and other international Hydrographic Offices.
Visit their website at imray.com.
The International Map Industry Association is saddened by the loss of our former executive director, Sandy Hill, who passed away surrounded by family at his home in California on November 15.
For nearly fifteen years, Sandy and his wife Linda managed the operations and conferences for the "Americas" division of IMTA, as we were known then. Their support and efforts were the backbone of our organization through Sandy's retirement at our 2016 conference in San Diego.
Many of our members recognize Sandy's famous greeting "Hello Mappers!" in the opening of our newsletters, which was how Sandy would always open our conferences from the podium, with his booming voice and friendly smile. We will miss our great friend Sandy, and we will endeavor to keep his cheer in the spirit of our association.
April 17, 2023
London, UK
June 7-8, 2023
Denver, Colorado USA
October 18-22, 2023
Frankfurt, Germany