IMIA continues to monitor the rapidly-changing situation related to the spread of COVID-19. The health and safety of our members and the industry are our No. 1 priority. We wish you all the best as you navigate through this worldwide crisis.
Dates announced for 2020 Virtual Mapping Leaders Forum series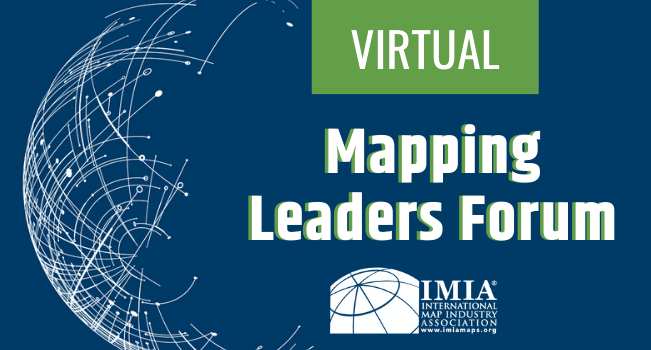 Now more than ever, connecting our international membership is essential. To make that easier, this year's Mapping Leaders Forum will be a series of three virtual events, covering all the same great content and providing industry and networking opportunities for members.
Save these dates – registration and speaker details will be available soon. Keep connected with us on social media for more information!
September 16 – 10am – 12pm EDT – Government
An international panel of agency leaders review the latest developments in open data application and discuss the varied effects of COVID-19 on their processes. After the presentations, join us for a Mapping Social (open to all)!
September 23 – 10am – 12pm EDT – Recreation
Map makers and publishers discuss new trends in map creation and distribution as travelers adjust their map use and buying habits. A members-only networking session will follow the presentations.
September 30 – 10am – 12pm EDT – Technology
Understanding geospatial dashboards and the technology that drives them.going virtual! A members-only networking session will follow the presentations.
Interested in becoming a sponsor for this event? Contact us at imia@oferrallgroup.com .
2020 ICA-IMIA award winners announced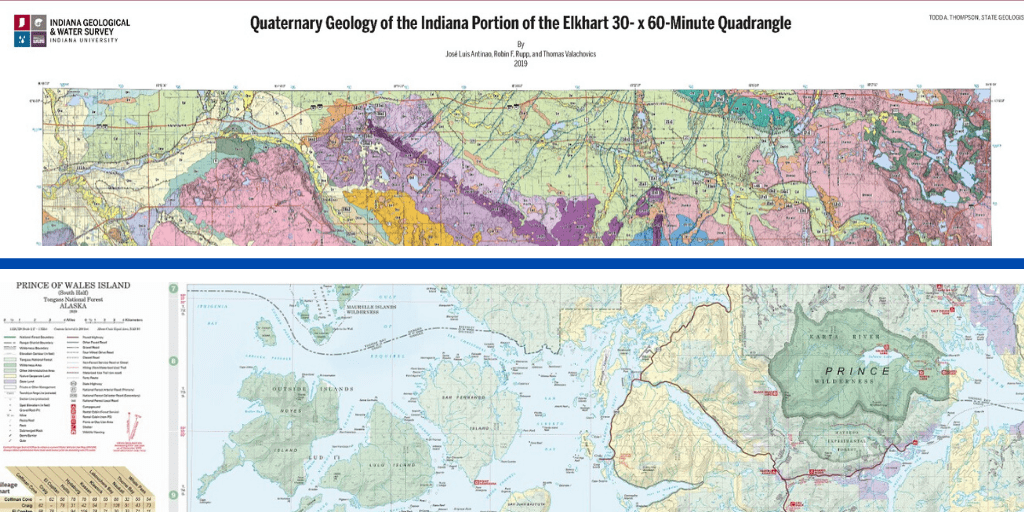 The winners of the 2020 Esri International Cartographic Association (ICA)/International Map Industry Association (IMIA) Recognition of Excellence in Cartography award were announced at the recent Esri User Conference. This year's winners are the Indiana Geological and Water Survey for their map "Quaternary Geology of the Indiana Portion of the Elkhart 30- x 60-Minute Quadrangle" and the "Prince of Wales Island – Tongass National Forest" map and guide from the U.S. Forest Service.
The award, presented annually since 2016, promotes and recognizes excellence in map design and advancement in cartography. Judges Aileen Buckley and Patrick Kennelly (representing ICA) and Tim Rideout and Tony Lugo (representing IMIA), selected the two winners from more than 540 registered submissions in the Map Gallery, determining the entries that best exhibited excellence in all aspects of cartographic design and production.
Benchmark Map product selected for cover of the 2020 Esri Map Book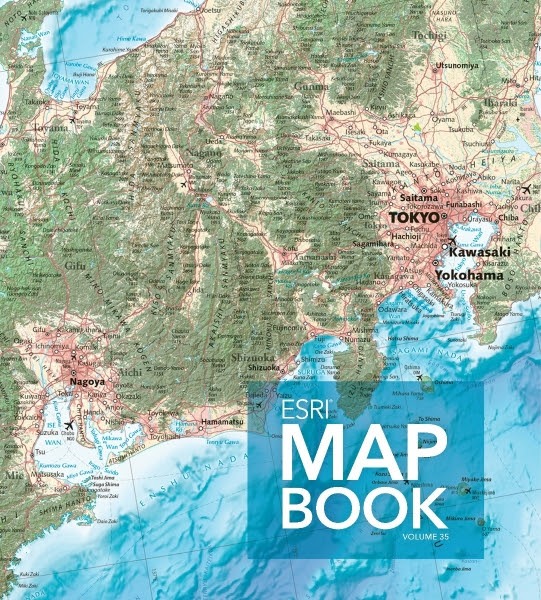 Congratulations to IMIA members Benchmark Maps on the selection of their map of Japan for the cover of the 2020 Esri Map Book. This large, general reference map of Japan used a variety of datasets and was edited with the help of a nine-person, native-speaking editorial team in Japan who combed over printed tiles of the map, providing several hundred edits and comments that greatly improved the map's accuracy (including spelling and elevation input).
The maps in Esri® Map Book Volume 35 provide examples of how the use of digital geography helps us see what others can't. From migratory patterns of monarch butterflies in the US to solar panel suitability in Puerto Rico, the data and spatial analytics developed from these works show the growing geospatial infrastructure that represents our world in digital forms.
Swiss mapping agency uses new tool to offer customized maps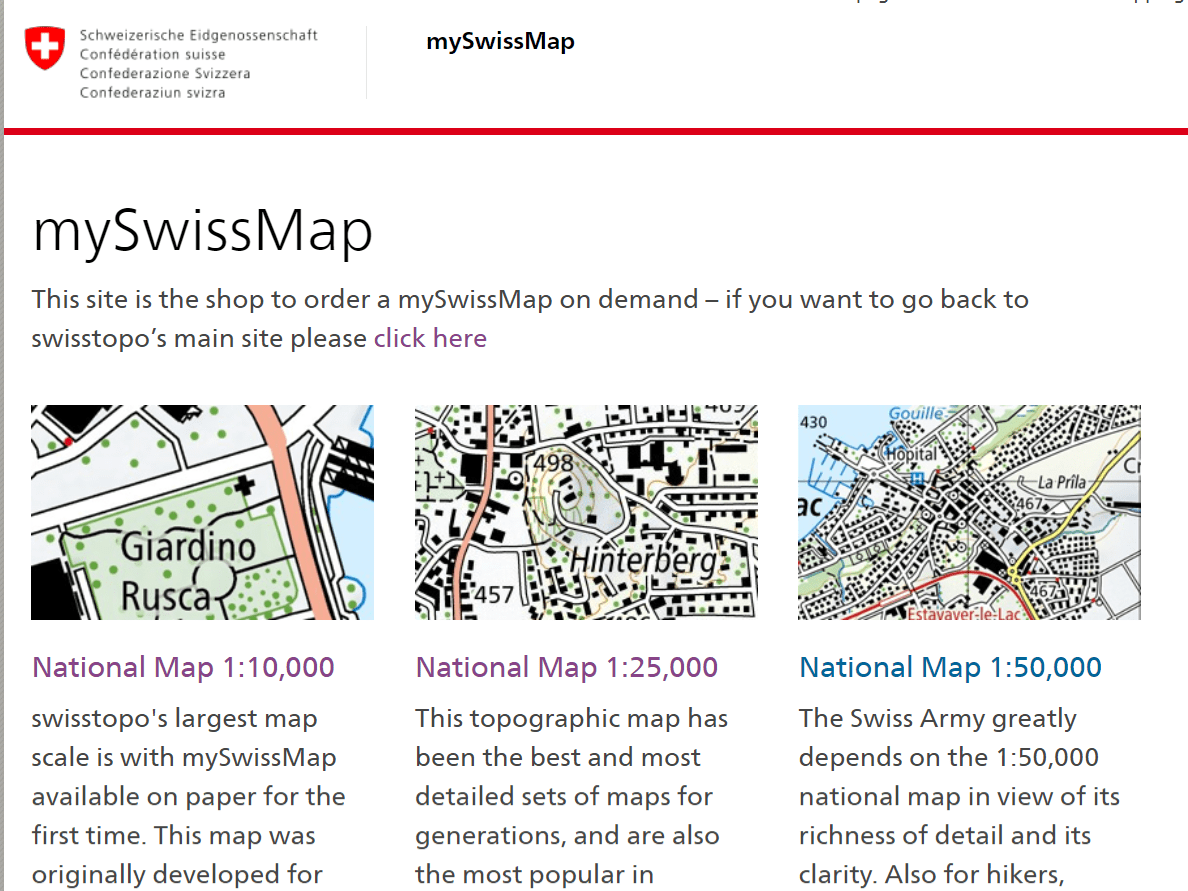 For 182 years, the Swiss Federal Office of Topography's Swiss National Maps (swisstopo) have represented precision and quality, embracing the latest available technologies to offer customers useful and accurate maps. The latest offering from swisstopo is an app that offers personalized maps on paper without any specified sheet divisions, individually produced, with numerous options for customization.
The new mySwissMap site allows users to order any map section to a scale of their choice from the comfort of home or on the road, and even allows for custom text and photos on the cover. By bringing digitization to the world of classic paper maps, swisstopo is responding to a growing trend towards individualization. The maps are printed on waterproof and tear-resistant paper and the map image corresponds to the familiar look of the National Maps.