Our Speakers
Dr. Nadine Alameh is the CEO of the Open Geospatial Consortium (OGC) – a collective problem-solving body convening the global community of geospatial experts and users to make Location information Findable, Accessible, Interoperable, and Reusable (FAIR) via open consensus-based standards, collaborative innovation projects, and industry partnerships. Nadine graduated from MIT with a Ph.D. in Information Systems Engineering, and 2 Master's Degrees in Civil Engineering and Urban Planning with a concentration in Geospatial Information Systems. She holds a BS degree in Computer Engineering from the American University of Beirut.
Francesco is a seasoned navigation, mapping and geo-localized solutions professional with over 25 years of experience primarily within the marine electronics industry combined with comprehensive insights into business strategy and development. Today, Francesco is the Chief Business Officer at GeoJunxion BV, formerly known as AND Products (Automotive Navigation Data), a Dutch publicly traded Company specialized in geospatial and location intelligence. GeoJunxion's main focus is on building high value, dynamic content and solutions, which enrich safety and sustainability in everyday life. In this current role, Francesco leads and oversees the company's ongoing expansion efforts into new markets and industry verticals.
Mark works with National Mapping, Land Administration, Imagery and Statistical Geospatial Authorities. He has over 35 years of experience working in GIS and mapping, including management positions at Esri, NAVTEQ (now HERE) and Rand McNally & Co. and Cartography Dept. in the Automobile Club of Southern California. Mark is on the board of directors of the International Map Industry Association, actively participating on the United Nations Committee of Experts on Global Geospatial Information Management (UN-GGIM), board member of UN-GGIM Geospatial Societies, and Executive Secretary of the User Community for Geospatial Authorities.
A passionate archaeologist, he earned a Master's degree in archaeology from Western University. Over the past decade Felipe has combined his knowledge of GIS and archaeology to study ancient architecture, settlement patterns, geoglyphs and ancient road networks to better understand the Pre-Hispanic cultures of Peru. Felipe joined Avenza Systems in 2019, focusing on customer success and engagement with private and government organizations around the world, Felipe brings their map content to the Avenza Map Store platform. Felipe's most recent publication can be found in the recently published book, 'Quilcapampa: A Wari Enclave in Southern Peru'.
Tamas Kerecsen is Chief Technology Innovation Officer at NNG LLC, a global automotive software supplier, which identifies and delivers optimized, on-demand location-based services, in-vehicle user experiences, and cyber-security solutions for the automotive industry. These solutions fill critical gaps in the automotive domain and enable current and future use cases for automated driving, vehicle electrification, and ubiquitous connectivity.
Tamas has been defining and building market-leading software-based products for the last 20 years. 10 years creating infotainment software for the automotive industry, and prior to that, building safety-critical healthcare X-ray products.
He enjoys resolving the complex issues that arise when technology, human factors, and economics collide. Tamas also has a passion for fostering grass roots innovation, both internally and externally, with many successful projects (as well as official patents!).
Tyler Mitchell is the founder and publisher of Locate Press, a company focused on raising geospatial technology awareness. He has consulted for various Silicon Valley Big Data tech companies and worked extensively with GIS projects and datasets. He is a founding member of the Open Source Geospatial Foundation where he served as Executive Director, overseeing outreach, marketing, and community management.
Ambassador (retired) Allan Mustard is a member of the Advisory Board of the Caspian Policy Center, a Washington, D.C.-based think tank, as well as similar boards for three commercial startups unrelated to cartography or data management. He was sworn in as U.S. Ambassador to Turkmenistan on November 25, 2014, and retired from that position in June 2019 after almost 38 years of public service. He previously served as an agricultural officer at U.S. Embassies in New Delhi, Mexico City, Moscow, Vienna, and at the American Consulate General in Istanbul. He managed the computer center for the Foreign Agricultural Service, U.S. Department of Agriculture, 2000-2002. He speaks fluent Russian, basic German and very basic Spanish, and has written articles for both Wikipedia and the OSM wiki. He delivered the keynote address at the 2016 and 2020 SOTM, the banquet speech at the 2019 NACIS conference on use of OSM in mapping Turkmenistan, and the keynote address to the OpenStreetMap US: Connect 2020 virtual conference. He was also interviewed for a GeoMob podcast in Summer 2020 on the OSMF, and again in Spring 2021 on the 2021 community survey. Ambassador Mustard resides in Falls Church, Virginia, United States.
Dr. David Oesch studied geography and history at the University of North Carolina, Greensboro (USA), and the University of Bern (Switzerland). He holds a Master's degree in Geography, Meteorology and Climatology with focus on remote sensing methods. His doctorate was on the operational processing of satellite imagery for the data assimilation process in numerical weather prediction models. He was then involved in the development and operation of agrometeorological and climatological products at Syngenta. Since 2010, he has been Senior Project Manager/Product Owner of the federal geodata infrastructure geo.admin.ch at the Federal Office of Topography swisstopo.
Olivia Powell is a chartered geographer (GIS) at the Royal Geographical Society with IBG with 20 years experience in the use of geospatial data and technology in the environment and law enforcement's sectors. She is currently the International Lead at The Geospatial Commission in Cabinet Office where she is responsible for bringing a coherent UK vision towards an international geospatial strategy and promoting the UK's geospatial expertise. She is also passionate about diversity and geospatial, and is a Director and co-founder of Women in Geospatial+ global network.
Mr. Pomfret is a corporate partner at the Williams Mullen law firm where he represents government contractors and technology companies on a variety of matters, including mergers and acquisitions, investments, licensing, privacy and cyber security. He is co-chair of the firm's Unmanned Systems practice group and the Data Protection and Cybersecurity practice group.
Mr. Pomfret is recognized as a leading authority on the legal and policy issues associated with geospatial information management. He has presented at Congressional hearings and United Nations' committee meetings and is a member of the U.S. Department of Commerce's Advisory Committee on Commercial Remote Sensing (ACCRES) and the UN-GGIM Working Group on Legal and Policy Frameworks for Geospatial Information Management. He is also an adjunct professor on Geospatial Law and Ethics at Johns Hopkins University and regularly conducts training and workshops across the globe on legal and policy issues associated with the collection, use, storage and distribution of geospatial information.
Mr. Pomfret began his career as a satellite imagery analyst with the National Photographic Interpretation Center (NPIC), a predecessor to NGA, where he worked on developing collection strategies and new collection systems.  He is a graduate of Washington & Lee School of Law and Bates College.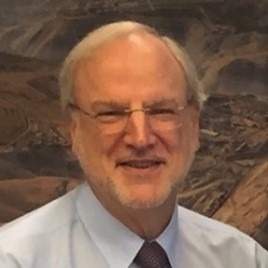 Mr. Reichardt has internationally recognized experience in the advancement of open international standards to promote improved geospatial data sharing and technology interoperability. As the former President and CEO of the Open Geospatial Consortium (OGC), Mr. Reichardt led a global forum of 500+ private and public sector organizations in the development, testing, demonstration and adoption of open geospatial standards and interoperability frameworks, which are implemented in products and services worldwide, and underpin local to international geospatial programs. Since retiring from OGC in 2020, Mr. Reichardt continues to advise OGC on strategic opportunities, and represents the OGC to the United Nations Global Geospatial Information Management (UN-GGIM) initiative.
In 2019 Mr. Reichardt was appointed to serve as a member of the US National Geospatial Advisory Committee (NGAC), and currently serves as the committee Chair. The NGAC advises the US Government on policy related to geospatial programs, the advancement of the US National Spatial Data Infrastructure (NSDI), and the implementation of the US Geospatial Data of 2018. Mr. Reichardt has previously served on the Group on Earth Observations (GEO) Programme Board and the US National Academies of Sciences Mapping Science Committee.
Mr. Reichardt's career began as a cartographer with the US Federal Government, supporting a range of map production and technology modernization programs from 1980-2000.
---