Motivations & Pathways for Digital Transformation through GIS
2021 Esri National Government Executive Forum Presentations Exclusively Available to IMIA members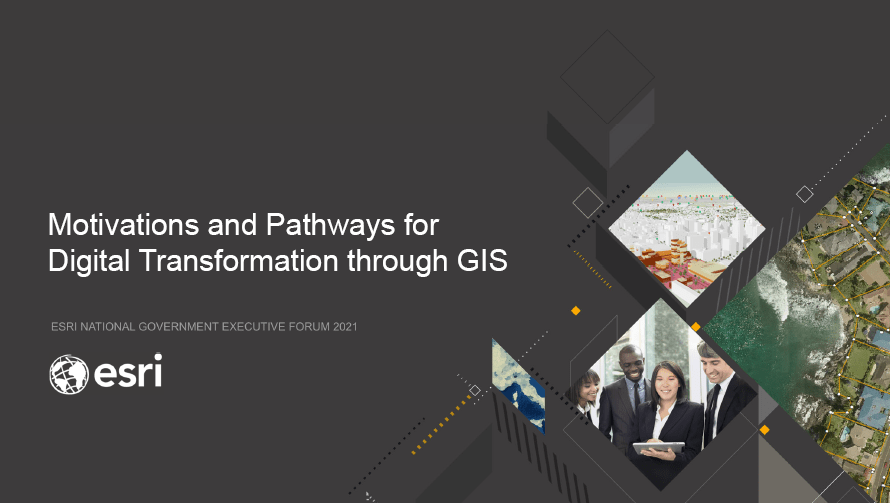 This exclusive, invitation only forum is an annual event that took place on September 28, bringing together top leaders in the national mapping, charting, cadastre, and statistical organizations to discuss best practices and innovations in digital transformation.
This year's theme was "Motivations and Pathways for Digital Transformation through GIS" with presentations from leading organizations such as:
Imagery & GeoAI – Public Authority for Civil Information (PACI), Kuwait,
3D & Digital Twins – Central Statistics Office, Grenada,
Open Data & Data Transmission – Instituto Geográfico Agustin Codazzi, Colombia
Digital Transformation – Ordnance Survey, Great Britain
Change Management – Danish Hydrographic Office, Geodata Agency, Denmark
Geospatial Strategy – Centre for GIS, Qatar
and more
This capstone event for Esri's User Community for Geospatial Authorities provides an international forum for national mapping, charting, cadastre, and statistical organizations to come together and share their motivations and pathways for how they have digitally transformed their organizations to respond to new and evolving challenges. The event theme represents the transformation within our industry.
As we enter the Fourth Industrial Revolution it is clear the critical role accurate and authoritative location information providers play in supporting socio-economic, national security, and environmental objectives for their nations. Whereas in the past, delivering accurate and authoritative data may have been sufficient, increasingly geospatial authorities are having to digitally transform themselves to respond to new community demands. These include accelerating the updating of information, the delivery of information in new formats, integration of datasets to deliver additional context, and doing this all with more efficiency and automation.
 IMIA members were sent this link directly to view the event presentations and learn more about innovations in digital transformation.
If you are an IMIA member that did not receive this link, please email IMIA@oferrallgroup.com.
IMIA Sponsor Corner is one of the benefits included in some of the levels of the IMIA annual sponsor program. For more information about the sponsor program,
click here.